Wed 16 Nov 2011 by Penny_Dann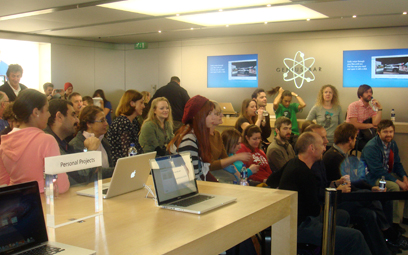 Meeting Report
Danny and Mikey of Brighton's Apple Store hosted our last event.
David O'Connor assured everyone that the group wasn't aiming to become Brighton Digital Illustrators' Group, indeed our next gathering is a life drawing event.
Wacom had sent down a Cintiq to play with and we were treated to demonstrations by illustrators Peter Greenwood, Lee Woodgate and Daniel Acacio. Daniel had only recently started to use the Cintiq, but he had discovered a few options that intrigued the other more experienced users.
If your budget doesn't quite stretch to a Cintiq currently, take a look at this little toy, available in the UK very soon… the Inkling, takes your sketches from your sketchbook straight to vector files.
http://www.youtube.com/watch?v=fXbBA1DRE84
There is now a new Cintiq model which incorporates a different stand. Rather than adopting an upright drawing board position this little beauty slides off the edge of the desk into your lap, so it's like working in the old fashioned sloping drawing board position. See the photo in the gallery.
The Apple guys were great, and hope to offer more B.i.G. events at the store, so if there is any area of digital arts that interest you please let us know and we can theme a meeting around it.
Share:
News archive
2019
2018
2017
2016
2015
2014
2013
2012
2011
2010
2009