Tue 10 Mar 2015 by Lon_Chan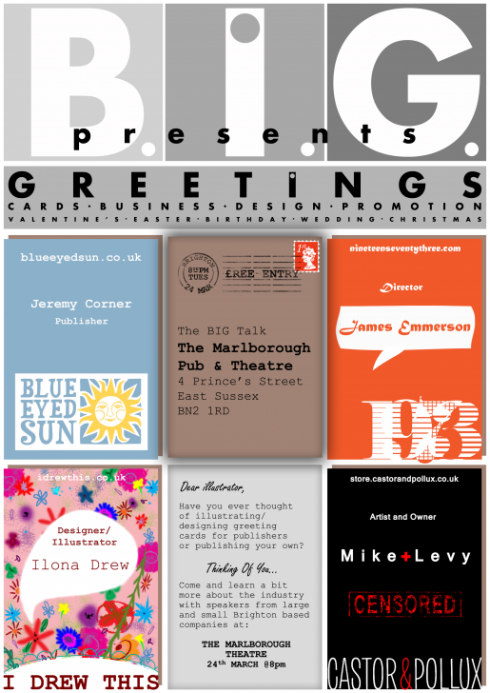 8PM 24th March, The Marlborough Theatre, 4 Princes Street, Brighton, BN2 1RD
BIGs second event for 2015 'GREETINGS' will have not one but four illustrious brighton-based speakers from all sides of the industry.
Ilona Drew our very own card aficionado is the surface pattern designer and illustrator behind I Drew This, creating interesting designs which revolve around the essential human themes of love and sentiment. Key to her designs are a raw childlike honesty using spray paint, pens, pencils, collage and print mixed with digital tools.
http://www.idrewthis.co.uk/
Jeremy Corner of Blue Eyed Sun, an award winning greeting card company specialising in handmade and high end design-led greetings cards. Founded by Jo and Jeremy Corner in 2000, the business now sells to the best gift and card shops around the world. Customers include Harrods, Paperchase, John Lewis, House of Fraser, Fenwick and Cards Galore as well as many of the top independent retailers across the UK.
http://www.blueeyedsun.co.uk/
James Emmerson of 1973, a greetings card designer, manufacturer and distributor who work with some of the most amazing illustrators, designers and brands, including Aurelie Guillerey, eBoy, Gumo, Sanna Annukka, Pintachan amongst others. Creating and selling artwork for cards, prints and other really great stuff!
http://nineteenseventythree.com/
Mike Levy from Castor & Pollux, Brighton's friendliest, beach front gallery, found half way between the two piers specialising in print and illustration. Castor and Pollux exhibits and massive range of super talented new and established, local and international artists.
http://store.castorandpollux.co.uk/
This is an amazing opportunity to come and learn more about the industry and how you can get your work out there. So if you've got questions about licensing, creating lines or just how the industry ticks, you'll never have a better opportunity to talk to these gurus!
Share:
News archive
2019
2018
2017
2016
2015
2014
2013
2012
2011
2010
2009