Thu 11 Feb 2010 by Belen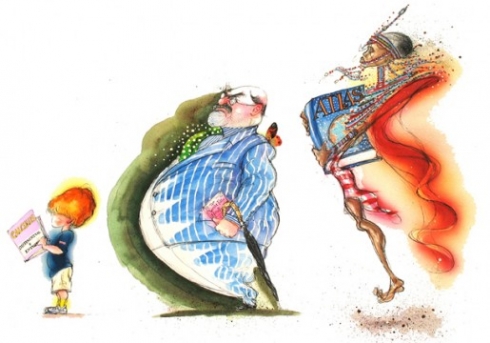 Chris Burke grew up in an non-artistic household and although he always drew and eventually studied graphics at art college, he never thought it was possible to make a living out of art. Instead, he went to work as an art director for five years. Finally, he decided to have a go at becoming an illustrator, chucked in his well paid job and promptly starved for a year! A visit to the west coast of Ireland, the place of his father's birth, got him seriously sketching the pub life there. He returned to London with a bundle of wax and air brush drawings and started knocking on doors. With the luck of the Irish he was almost instantly commissioned by both The Radio Times and Penguin Books and so begun a busy career with a long list of illustrious clients. In addition to the aforementioned, Chris has worked for The Listener, Punch, The Times, The Sunday Times, The Sunday Telegraph, The Irish Tourist Board, The Wine Cellar campaign, the list goes on...Many of these jobs have run for years such as 'The How To Spend It' column, (15 years) for The Financial Times. Chris seems to have the ability to build relationships with clients that last.He certainly thinks that being fast and reliable helps.
Chris explained that when he started out in the early 1980's, it was a golden age for illustrators. Improved colour reproduction and the fall of the price of paper for publishing, meant there was a lot of work about, added to which, he was often given a free hand with the brief.
Chatting with Chris, I discovered that he had grown up in East Street, Camberwell, (the setting for Charlie Chaplin's Easy Street, I believe), which is up the road from where I grew up. In this very old part of London, The East Street Market was a bustling melting pot of a place, full of characters, vitality and humour. I mention this because these qualities, this engagement with the hustle and bustle of life are to be found in Chris' drawings and caricatures, even though they cover a wider view of British life and history.
His heroes are Daumier and Lautrec and you can appreciate this in his loose limbed and at times flamboyant drawings satirising the foilbles of the good, the bad and the not too attractive.
An early exhibition in Great Windmill Street brought him to the attention of a record producer and from that, work for Lenny Henry and the emerging alternative comedians. As so often happens in illustration, one thing leads to another and Chris was off rubbing shoulders again with more celebs, this time Leonard Bernstein.
Chris's career has taken him in many directions from television ads for the Irish Tourist Board, taking part in drawing the world's longest cartoon, having work blown up giant poster size announcing the first 24 hour Tescos to taking part on television himself on the quiz show Egg Heads.
Chris finished off his talk by showing the work he was commissioned to do by the book sellers Ottakars, later taken over by Waterstones. This was a huge project. As the company grew and new book shops opened up around the country, Chris was commissioned to design images specific to each town. This involved research into the famous people and history connected to these towns. His images were also enlarged to decorate the shops. His joy in the job is evident and he was often allowed full rein resulting in work full of rich imagery and humour.
There is no doubting Chris's love of drawing. After his talk and with a long journey home ahead of him, unprompted, he did a little sketch of me, whilst we chatted. There is also no doubting that when Chris chucked in his job all those years ago he was doing the right thing!
Share:
News archive
2019
2018
2017
2016
2015
2014
2013
2012
2011
2010
2009