Wed 10 Feb 2010 by Emma_McCann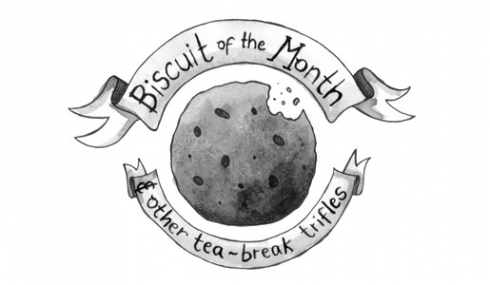 Hi everyone. It seems ages since the last Biscuit; hopefully we're all over the excesses of Christmas and are all sticking rigidly to our New Year's Resolutions (cough).
You may have noticed that the BiG Twitter feed is now on the front page. I find that this is a great way to flag up any interesting things I come across on the web, then I can expand on some of them in detail later in this 'ere blog.
So, a slight change of approach, but hopefully one that's a little easier to maintain. All titles are links to the full web pages, so do click through to read the full article. Let's see what's QI at the moment:
Jacket & Bookmark on swissmiss

These are just fab. Maybe slightly impractical, but such a great idea nonetheless. These are the brainchildren of Igor "Rogix" Udushlivy who thought it would be great if we could use dust jackets and bookmarks together to create a unique image of a book.
swissmiss is such a great site; so much inspiration it's well worth visiting regularly.
A bit of creative fun for the 14th from SUCK UK. They say:
Wooden postcard ready for you to hand carve your own message of love.
Send a truly unique card to the one you love. We suggest a good old fashioned heart pierced with Cupids arrow and decorated with the initials of yourself and the object of your affections! Soft and lightweight, easy to scratch in your design (with keys or similar) and easy to post.
Made from solid wood.
Warning! Please scratch your message with care, we don't want you to hurt yourself.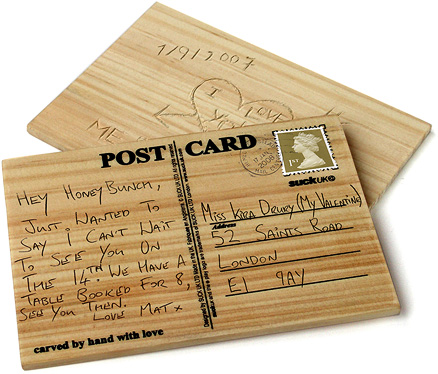 Much better than something cheap and nasty from Tesco.
Now, I don't condone smoking in any way, but these are just fantastic pieces of design from TankBooks. They say:
The flip-top cigarette pack is one of the most successful pieces of packaging design in history. TankBooks pay homage to this iconic form by employing it in the service of great literature. We have launched a series of books designed to mimic cigarette packs – the same size, packaged in flip-top cartons with silver foil wrapping and sealed in cellophane.

The titles are by authors of great stature – classic stories presented in classic packaging; objects desirable for both their literary merit and their unique design.
Each story is complete and unabridged – with a type size that's easy to read. Individual books are great for throwing into a pocket or handbag – an instantly familiar object to carry with you. The complete set comes in a stunning tin – perfect as a really original gift.
A fun yet incredibly interesting experiment by Matt Robinson and Tom Wrigglesworth, which aimed to see which font uses the most ink when hand-drawn with a ballpoint pen.
A Great Flickr set: sandiv999.

Very nice mid-century illustration, plus interior design, architecture and graphics from the same period. Great resource.
Biscuit of the Month: Helvetica

Now, these are just cool. Cookies for geeks, that's what I like.
If you find anything you would like to flag up, then Tweet us or email me. Thanks!
Share:
News archive
2019
2018
2017
2016
2015
2014
2013
2012
2011
2010
2009