Fri 26 Feb 2016 by Garry_Robson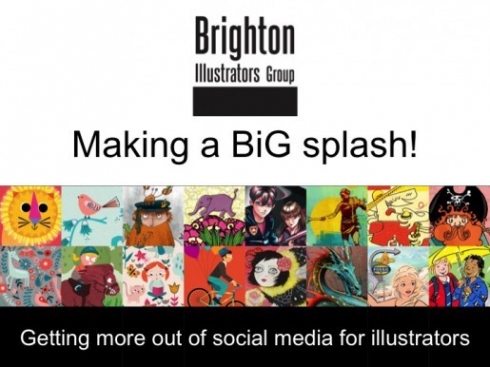 Thank you to everyone who came along to the BiG Splash social media meeting on 16th February. Our guest speaker – Lucy Charlotte Brand (from Lady Digital) gave an inspiring presentation packed with helpful ideas for illustrators keen to reach a greater audience online. If you missed the meeting you can see a version of Lucy's presentation online at Slide Share. You can also see the BiG social media update presentation on Slide Share.
Three key points to remember about social media for illustrators made in the meeting were:

1. Know who you want to reach, why you want to reach them and what social media platforms are best for communicating with them

2. Make your posts interesting and give insights about what inspires your artwork – people like to know this

3. Follow and comment on other artists and other subjects relevant to your work (e.g. follow children's book illustrators if you are or want to be a children's illustrator).
BiG social media
We've been improving BiG social media so we can raise BiG's profile and promote the work of our members more effectively. These are the current platforms we are using but we are looking at others as well such as Pinterest:

• Facebook BiG page (our externally facing public page)
• Facebook BiG group page (our closed member group page)
• Instagram
• Twitter.
BiG focus on Facebook:
Recently we've been putting energy into developing BiG's presence on Facebook that is used as a platform to promote BiG and the work of our members. We feature a member portfolio every Monday and Friday so please check them out and share them.
• On average BiG member portfolio features are reaching between 300 and 500 people on Facebook

• Some portfolio features have reached over 1,000+ people

• We are seeing more traffic to the BiG site and members are also reporting increased traffic to their own social media sites

• We've also had commission enquires sent to the BiG Facebook page which have been forwarded on to BiG members via the BiG newsletter.
How to help BiG make an even bigger splash
Three simple things can help BiG and our members reach a wider audience and generate more engagement for our members and their work:

1. Follow, 'like' and share BiG social media posts (especially if we're sharing your portfolio!)

2. Use these BiG # tags when posting your illustrations on Facebook, Instagram and Twitter: #brighonillustrators #brighton_illustrators

3. Send us news and updates about your illustration work (or post it on the BiG blog) and we will share it across the BiG social media.
Share:
News archive
2019
2018
2017
2016
2015
2014
2013
2012
2011
2010
2009