Sun 08 May 2011 by Siobhan_Harrison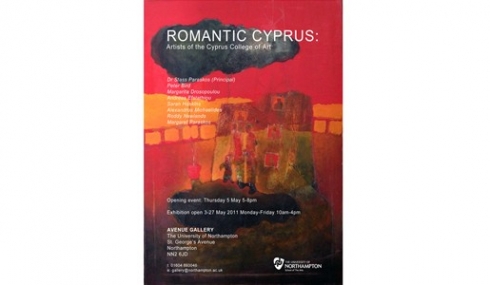 Avenue Gallery invites you to the opening event for 'Romantic Cyprus', an exhibition by eight artists who teach at the Cyprus College of Art, on Thursday 5 May from 5-8pm.
The exhibition celebrates the ongoing partnership between the University of Northampton's School of The Arts and the Cyprus College of Art which has resulted in the delivery of an MA in Fine Art in Cyprus and a series of student exchanges.
The exhibition features work by Stass Paraskos, Peter Bird, Margarita Drosopoulou, Andreas Efstathiou, Sarah Hoskins, Alexandros Michaelides, Roddy Newlands and Margaret Paraskos, and will run until 27 May.
http://tunis.northampton.ac.uk/2011/04/28/invitation-to-romantic-cyprus-exhibition-opening-at-avenue-gallery/
Share:
News archive
2019
2018
2017
2016
2015
2014
2013
2012
2011
2010
2009