Fri 27 Nov 2009 by Belen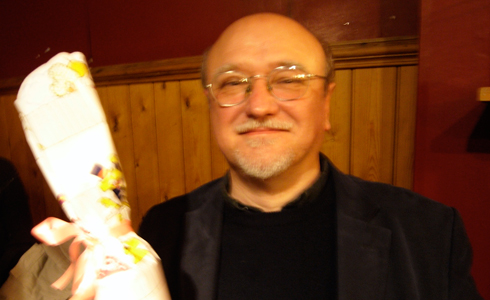 It was another full house at The Eagle for this month's meeting - the last of the year. Despite the rain and wind, Brighton Illustrators came along to be captivated by Paul's tales and gasp in amazement at his wonderful artwork. A truly memorable meeting. Belen Gomez reports...
A torrentially rainy day was cheered up by an evening spent in the company of Paul Slater, his unfettered, free wheeling imagination and the accompanying amusing anecdotes. Paul's prodigious talent for painting, drawing and humour had us entertained and laughing throughout his talk. He whisked through pictures or 'follies' as he prefers to call them, executed with the clarity and colourfulness of posters. A pageant of characters and unlikely scenarios included, The Elvers Nite, Hoxton Meerkats, a miserable modern day Mary Poppins, a medieval knight on a pie quest, silly chefs, a Meccano crucifix, a cricketer under attack from injuns, you name it, nothing seems impossible in Paul's realm of the absurd. Paul grew up in an artistic household and has been subversively scribbling from a young age. Although apparently lazy by nature, if an incongruous juxtoposition occurs to him, he is driven to set it down. 'What if...' can easily be a starting point and he has always kept sketch books in which his imagination and observations first see the light of day.
Although Paul is best known for his work in The Times, he has also been pursuing a successful career as a painter. The content of his large, striking paintings remains humorous, but he paints in oils instead of acrylics. These are worked on over a period of time building up layers of glazes, glowing colours and textures. He is deeply involved in the craft or what he would rather call, the language of art and picture making. He sets himself challenges such as describing the different textures in his series of cowboy paintings. It is these skills in drawing and painting that make his implausible ideas credible and almost possible.
Paul's unpretentious,direct and funny work was reeling through my mind as I left for home, soggy and damp but I was warmed through by the thought of pies, practical nudity.com, the benefits of a weekend spent making mosaics in the company of awesome women, but especially by Paul's determination to pursue his wonderful imaginative life and share it with the rest of us.
http://www.cuttergallery.com/Paul_Slater.htm
Share:
News archive
2019
2018
2017
2016
2015
2014
2013
2012
2011
2010
2009