Wed 04 May 2011 by Angela_McKay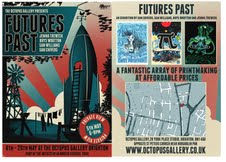 We're very excited to show you the new prints that Sam Chivers and Sam Williams have done especially for the show. Myself and Jemma Treweek are also exhibiting with new work from Jemma that hasn't been in the gallery before including a fantastic Queens of the Stone Age gig poster for their upcoming tour.

The exhibition is throughout May. We're open Thursday-Sun 12-6pm (closed 5 May daytime for show prep)

The exhibition is being featured in Design Weekly Magazine that comes out on 5 May too.
Thanks
Rhys

--
http://www.octopusgallery.co.uk
http://www.rhyswootton.co.uk
http://www.bragcollective.com

+44 (0) 7812 929 048
skype: rhys-wootton
Share:
News archive
2019
2018
2017
2016
2015
2014
2013
2012
2011
2010
2009