Sat 08 Jan 2011 by Penny_Dann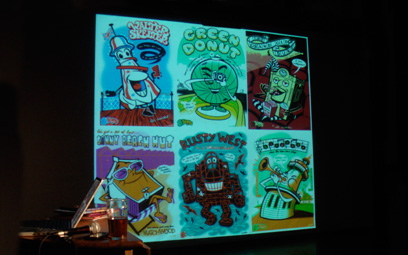 Despite the bad weather and London to Brighton trains getting cancelled due to snow our last 6 x 6 meeting was a full house and most of our guest speakers were able to make it, for which we are very grateful.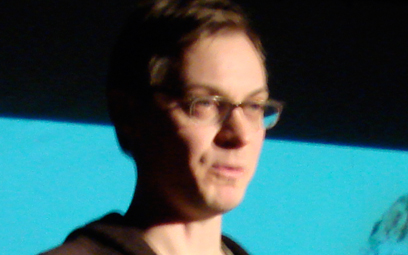 Simon Holland travelled down from London and opened the evening. Simon is a commissioning book editor whose role involves overseeing and developing projects. He worked for Dorling Kindersley for 5 years in children's books and since 2006 has worked for Kingfisher (now an imprint owned by the Macmillan publishing group). Simon is part of a small team whose work is education based and aimed at the mass market. Simon commissions both traditional illustration and photo- montage work. Projects are driven by co-edition sales of which 50 % are in foreign languages.
The commissioning process is editorially driven and starts with a synopsis in which experts in the subject are consulted as well as the writer and illustrator. There is meticulous attention to detail in order to achieve veracity of topic. Similarly, the budget is worked out carefully too. The illustrator then pencils out a storyboard which is again checked over by experts. Copyright is retained by the publisher, although this is negotiable in certain cases. An advantage of the team being small is that it allows for flexibility. The quality of the work is uppermost and a development forum exists to explore ideas.
Simon suggested that when pitching an idea, to aim at a specific concept. In his experience he feels it is difficult to pitch fictional crossovers as these blur boundaries. He also suggested that paper engineering and novelty ideas add value.
Finally, Simon discussed possible future developments. Macmillan are to digitalize all their back list in black and white although colour is still important to Kingfisher. He discussed the development of phone apps, animated e-books and gaming elements and finally digital pens similar to an MP3 player.
Simon has commissioned one of our regular attendees Nishant Choksi to illustrate several books
http://www.nishantchoksi.com

Sam Chivers has worked at his Magic Touch Company for six years.
His first image of a cover for PC Answers was an example of work he wasn't too happy with. He took us instead on a tour of alternative work which he does, in order to survive what he described as the more 'soul destroying commercial work', a situation I'm sure we are all familiar with.
Sam takes pride in this alternative work and it started 5 years ago when he took up screen printing. The need to get away from a computer screen and get his hands dirty has proved fruitful in many ways. His ideas start as mindless, spontaneous, freely drawn doodles which he then organizes digitally and finally screen prints up in CMYK, as in commercial printing. These works have attracted commissions for other types of magazines including cosmic planetary imagery for the New Scientist. Sam also uses collage to create imaginary landscapes and these original works have been exhibited at Boxbird gallery in Hove. Sam proves that personal work can feed successfully into commercial work and also keep you sane.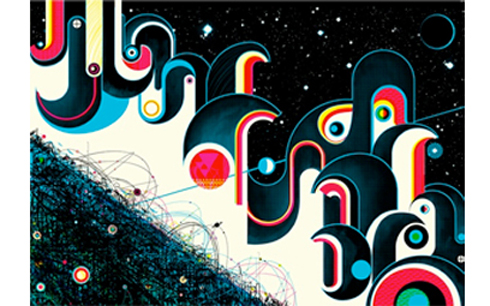 Sarah Appelhans from Brighton Marathon popped in to tell us about an art competition and exhibition they are running for 2011. Details can be found on the BIG blog. Have a look! The deadline is currently 10th Jan.


Geo Parkin chose Brighton as the theme for his six slides. After leaving Brighton Art College Geo invented Al Terno , a hipster character for a comic strip which ran for 4 years in a local listings magazine, The Punter. This led to local rockabilly Brighton band, Long Tall Texans, commissioning Geo to design album covers and related products for them which was a very happy partnership all round.
In 2005 the Argus ran a poster competition to celebrate 125 years of The Argus. Geo drew a highly detailed and vigorous aeriel view of Brighton which was much appreciated. A quiet spell allowed Geo some time to play around with software and try out new techniques. This led to six strongly graphic character images representing different Brighton icons such as Rusty West (pier) and Green Donut! This led to new work being commissioned.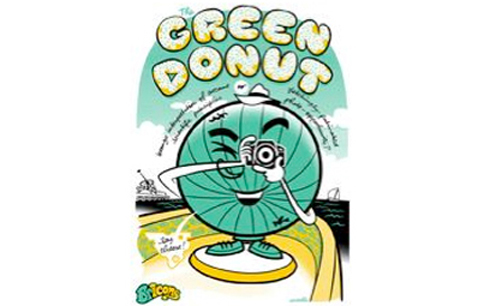 As a total contrast and purely a technical exercise, Geo also created a surrealistic type image of his back garden, based on a snapshot. Geo explained that developing work using an ipod touch was an exciting new venture for him. Like many guest speakers before him, Geo proved that staying engaged with new processes and ideas pays off and keeps work interesting.

Mark Oliver presented slides of his two recent books 'Monsters' and the follow up 'Aliens'. He worked on these with writer Jonathon Emmett and they pitched the ideas to Macmillan who accepted the project. The books have been long listed for the Kate Greenaway Prize.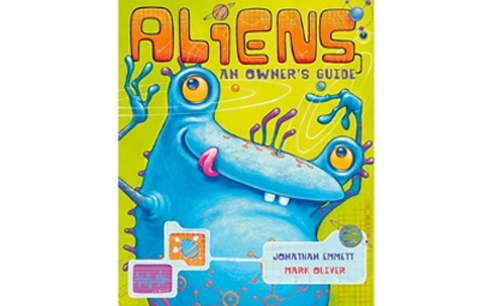 These were followed by slides of illustrations for other commissions such as a magazine cover of an imaginary airplane for Scholastic and a complex job featuring map work for the Sea Life Centres.
As an antidote to staring at a screen for long periods and as a complete contrast, Mark has been making three dimensional work. Using found objects and collage, he assembles these to create interesting bugs which he then frames. These have been a hit and not only has he shown at The Affordable Art Fair but he even has a waiting list for his insects.
Like Geo, Mark brought in original art work which is always a pleasure to see and handle.
We would like to thank our guests for generously sharing their work with us and as a result the evening proved interesting and thought provoking.
Thank you also to all the BiG members that organized the evening and looked after the visiting speakers - namely, Siobhan Harrison, Peter Greenwood, David O'Connor and Vicky Woodgate, plus Kate and Steve at the Nightingale.


Share:
News archive
2019
2018
2017
2016
2015
2014
2013
2012
2011
2010
2009