Fri 05 Oct 2012 by Penny_Dann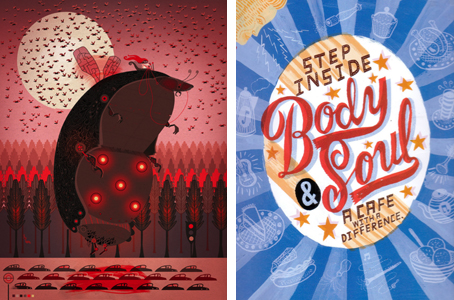 We are very lucky to be joined by two innovative and exciting image makers -
Thursday 25th October - 8pm
Upststairs at the King & Queen
13-17 Marlborough Place, Brighton, East Sussex, BN1 1UB
Graham Carter - Following on from his 'Me, Marionette' show at Ink_d Gallery this year, Graham will be showcasing his beauteous animations and prints.
He has a brand new website http://www.graham-carter.co.uk/ but come and meet the man himself.
Also with us, is fellow big-hitter in the illustration and printmaking world, Jonny Hannah.
See his work here
www.heartagency.com/artist/JonnyHannah/gallery/1
There will be plenty of time to meet the artists, so come along and be inspired. All welcome, see you there!
Share:
News archive
2019
2018
2017
2016
2015
2014
2013
2012
2011
2010
2009