Thu 23 Mar 2017 by Garry_Robson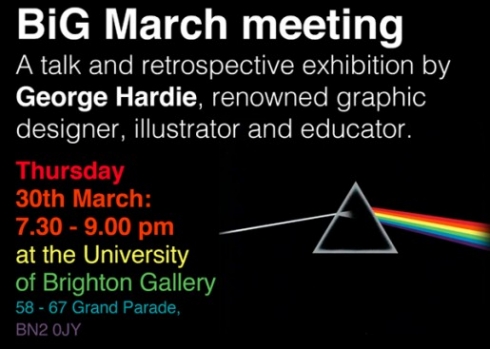 BiG March Meeting
Date: Thursday 30th March
Time: 7.30PM - 9.30PM
Venue: University of Brighton Gallery
Venue address: Brighton University, 58-67 Grand Parade, BN2 0JY

Dear BiG members,
We are thrilled to announce that our special guest for this meeting is Professor George Hardie, renowned graphic designer, illustrator and educator. This will take place in the Brighton University Gallery which is currently showing a retrospective exhibition of work by George Hardie. George will introduce the show and then take questions so this is an exclusive opportunity to take a close look at the exhibition and to find out more from George about his experience as an illustrator working in the industry for over 40 years.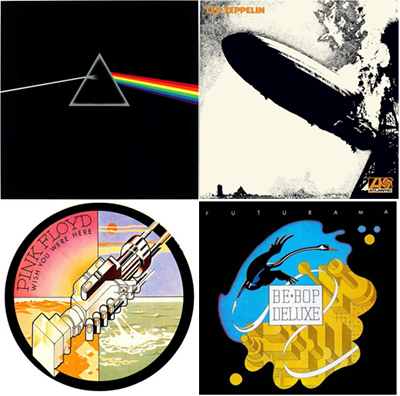 George Hardie is the artist behind some of the most iconic pop and rock album covers of the 20th Century including Pink Floyd's 'Dark side of the Moon' and Led Zeppelin's debut album. A graphic designer, illustrator and educator, trained at St Martin's and the Royal College of Art, Hardie worked as a designer/illustrator for more than 40 years, making illustrations for clients around the world.

See the blog about George Hardie's exhibition at Brighton University Gallery
Time table for the meeting:
7.30: Event starts
7.45 - 8.25: George's talk and Q&A
8.25 - 9.00: Opportunity for people to take a further look at the exhibition.
9pm. Event ends
Hardie taught illustration at the University of Brighton from the early 1980s until his retirement in 2014. He continues with PhD students, having become Professor in 1990. He is International Secretary for the Alliance Graphique Internationale and a Royal Designer for Industry.

This is a free event, however there is also a bar available from 7.30pm to 8.00pm where BiG members can buy drinks.

See you there!
Share:
News archive
2019
2018
2017
2016
2015
2014
2013
2012
2011
2010
2009