Thu 02 Aug 2012 by Emma_McCann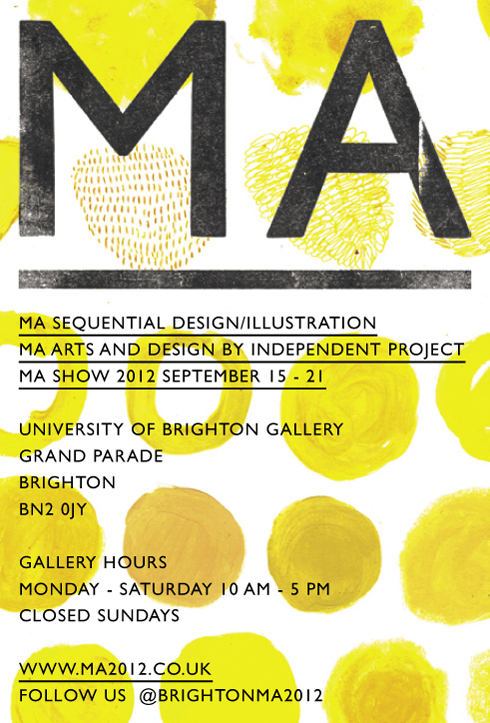 MA2012
UNIVERSITY OF BRIGHTON GALLERY
Private View – Friday 14 September 2012, 5:30–8:00pm
MA2012 showcases diverse new work by students graduating from the MA courses in Sequential Design/ Illustration, and Arts and Design by Independent Project at the University of Brighton. The exhibition includes animation, 3-D work, illustrated books for adults and children, experimental writing, interactive design, comics, and performance.
The highly acclaimed Sequential course attracts new and established illustrators, designers and makers from all over the world, keen to explore the principles of sequence within their chosen field. Work featured in the exhibition––ranging from a giant wordless comic set in 1940s California to a series of interactive objects designed to trigger sensory memories from childhood––demonstrates the variety of individual research. Other work considers the perceived eccentricity of the animal world; the narrative potential of abstract shapes; the value of autobiographical insight into anorexia, and the emotional pertinence of a grass skirt growing in a chest of drawers.
The Arts and Design by Independent Project course encourages experimentation and innovation within a specific field on a central project. Students come from a wide range of disciplines, giving the course its characteristic diversity; the areas of study and possible outcomes are hugely varied. This year's show includes stories told through a community's textiles, a range of electrical appliances that have been turned inside out, and a visual/performance artist exploring the role of the alter ego by working in close collaboration with himself.
These internationally recognised postgraduate courses support self-initiated projects and help students to develop an informed, critical and imaginative view of the subject. This exhibition is a testament to their unique creative inquiry.
________________________________________________________________
Exhibitors: Judith Abegg, Sandra Aguilar, James Burlinson, Sungsu Chung, Richard Cobbold, Grant Cieciura, Ellie Crane, Beth Dawson, Philip Drury, Dominic Evans, Emma Falconer, Sophy Henn, Hope Liao, Erika Pal, Jessica Plant, Woodrow Phoenix, Yeon Gyong Joo, Anna-Kaisa Jormanainen, Irene Jihyun Kim, Ling Yu Meng, Rebecca Rossiter, James and Tiago de Sousa, Elly Strigner, Rory Walker, Emily Wallis, Lauren Watson, Fang Yu.
Private View – Friday 14 September 2012, 5:30–8:00pm
Exhibition continues 15–21 September
Gallery Hours: Monday – Saturday 10 a.m. to 5 p.m. Closed Sundays.
University of Brighton Gallery, Grand Parade, Brighton BN2 0JY
For information on participating artists contact the course leader, Margaret Huber, at [email protected]
For course details contact the course administrator, Linda Finch (tel. 01273 643041) [email protected])

Faculty of Arts: http://arts.brighton.ac.uk/study/postgrad
MA2012 website: www.MA2012.co.uk 
twitter @brightonma2012
Share:
News archive
2019
2018
2017
2016
2015
2014
2013
2012
2011
2010
2009