Mon 24 Oct 2016 by Garry_Robson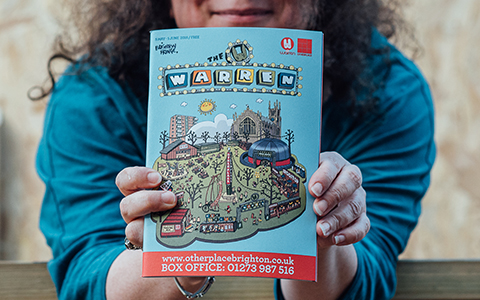 Otherplace Productions, who run the Warren Festival site down at St Peter's Church during the Brighton Fringe Festival each May, are seeking a local artist to create the artwork to promote the Warren Festival 2017. This is a paid commission; please see their design brief below. All artwork is aimed for completion by December 2016 and will be used for their website, social media, printed brochures, stationery and some limited merchandise.

For those interested, in the first instance they should contact Hannah Atkins at Otheplace Productions directly (see contact details below). The first phase of the project involves providing rough ideas for the artwork, and this is open to anyone. This initial phase does not include a fee and OtherPlace Productions will choose one artist to work with, who they will then commission. Therefore, the initial phase can be seen as a pitch.

Please note that BiG is not in anyway involved in this project and we are sharing these details as it may be of interest BiG members. BiG is not an agency so we do not get involved with discussions between the organisation (OtherPlace Productions) and BiG members. For any further information please contact OtherPlace Productions directly:

OtherPlace Productions contact details:
Hannah Atkins: [email protected]
OtherPlace Productions website: www.otherplacebrighton.co.uk

Warren Festival design brief:
Otherplace are looking for talented artists, illustrators, and designers to create the artwork for our creative campaign for The Warren 2017. The successful applicant's design will grace the front cover of our brochure and be used for on-site artwork, merchandise and a variety of other printed promotional materials, creating a unique and recognisable concept for our 2017 festival. This Dropbox folder contains some images and drawings of The Warren festival site for inspiration, and some examples of how the artwork was used in 2016.
Some examples of where the artwork was featured last year are:
• Brochure cover (60,000 copies distributed in Brighton & Hove, Sussex and London)
• Staff uniforms (t-shirts and hoodies)
• Merchandise (A2/A3 posters, A5 postcards, A3 kids' colouring page)
• Large on-site posters (A1)
• Till receipt header
• Paper header (eg. Press Releases)
• Discount cards and drink tokens
• Social media (eg. Facebook/Twitter cover photos)
• Adverts in local publications
We are only looking for rough sketches and ideas at the moment and are open to any creative interpretations for the theme. Once we have chosen a successful applicant, we will meet and discuss a more detailed brief at the beginning of the process. We are aiming for completion for the final artwork by December 2016. There may also be some smaller ongoing/ad-hoc tasks in the lead up to the festival.
Fee:
The artist will receive a payment of £400 for their designs, as well as a ¼ page advert in the brochure and a credit on our Partners page.
Share:
News archive
2019
2018
2017
2016
2015
2014
2013
2012
2011
2010
2009