Thu 08 Nov 2012 by Amy_Rogers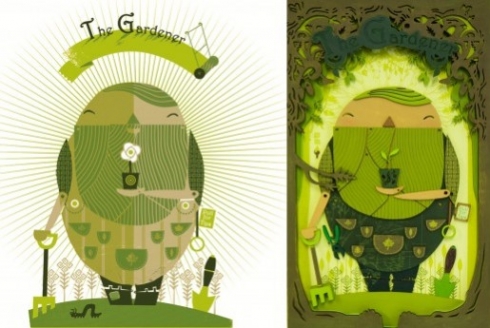 This months BIG night out was at the King & Queen pub. Illustrators Graham Carter and Jonny Hannah were set to appear together but sadly Jonny had to pull out at the last minute due to work commitments. Graham enlisted the help of his animator friend Simon Armstrong, and we were most grateful! Jonny should be with us at a later date.
Originally an illustrator, Graham Carter ventured into fine art screen-printing about five years ago. He was nervous about his first shows but they were a success and he made some fantastic contacts.
Graham and his wife set up Boxbird Gallery in Hove about four years ago. They showcase a variety of artists and have their own silkscreen-printing workshop. The couple often attend craft fairs and got involved with this year's Brighton Festival. They held an 'Open House' and took part in the children's parade, introducing a giant yeti puppet to the public. Based on one of Graham's illustrations and made with the help of his puppetry friends, the yeti is comprised of papier-mache, wire and wood. There was some concern when the yeti was left outside overnight - it got soaked in the rain right before the parade! Luckily, despite a crumbling hand, the puppet just made it through the day. The yeti was photographed with all sorts of quirky characters at the festival, and has proved to be an excellent promoter of Graham's work. There was a social-networking competition for people to post photos of themselves with the yeti; the best images won prizes. One little girl thought she had seen the yeti in the French Alps but unfortunately she didn't get a photo!
The yeti was in attendance at Graham's Me, Marionette show at Inked Gallery, Brighton. Puppetry was the unifying feature in a show initially inspired by the story of Pinocchio. Graham was intrigued by the dark narrative but soon found it limiting as his work evolved in an idiosyncratic way.
Graham's baby son was an inspiration for the show and the characters were created as role-models for him. Many puppets were inspired by the warriors and heroes found in classic 1940's and 50's comics.
Graham became utterly immersed in the creation of his puppet world - the show was the culmination of a year's work (plus side-projects!). Every character was carefully considered and had a unique 'personal environment' and colour-palette. 'The Gardener' is a favourite, he still pops up today and is based on Graham's horticulture-loving Dad. 'The Director' had a body covered in cameras and was surrounded by vintage cinema inspired prints.'The Explorer' was surrounded by exotic visions of foreign lands and oceans. 'The Astronaut' sprung from the idea of a boy's dream lifestyle and how it became a reality. The Astronaut's helmet was made of heavy, clear perspex, making his lower half tricky to balance out. Whenever Graham got stuck on one character he looked at a different one, before returning with fresh eyes.
The first object to sell came from an idea that popped randomly into Graham's head. It was a laser-cut plywood 'Art Critic' character in a clear box with a sign saying 'In emergency break glass'.
Graham always begins with simple sketches - the basis for digital illustrations created with Photoshop. Each graphic element is saved as a separate layer, so these images are easy to convert to vector-art. Graham often experiments with wood textures in his digital images, getting a sense of how they will work as wooden artwork. To create the wooden artwork he sends his vector files to the laser-cutters, who send back plywood pieces akin to a jigsaw puzzle. Graham assembles the pieces as 3D relief artwork, before dismantling them, painting and screen-printing on them, and reassembling them.
http://www.graham-carter.co.uk/
http://www.graham-carter.co.uk/me-marionette/
Simon Armstrong is the founder and Creative Director of Ticktockrobot, a creative design production company based in Brighton. Simon says Graham's work is ideal for animating due to his clearly defined shapes and intricate layering. For stop-motion animation, every joint needs to work individually, so each one had to be saved as a separate Photoshop layer, ready to be manipulated in Aftereffects.
Simon was very enthusiastic about Me Marionette, devoting two months of his time. Initially creating one short animation, he went on to make three shorts, which he then decided to weave together as one long animation. The two artists storyboarded the feature together. When looking for ingenious ways to synch different scenes together, the puppetry theme worked in their favour - visual elements could be moved around like stage sets. A bird that moved in like a space shuttle had been bugging Simon, but Graham loved it - it fitted with the jangly nature of a puppet-world. The Astronaut's rocket, the Gardener's sky-scraping trees and the Explorer's various modes of transport all helped link scenes together.
All Graham's Photoshop files served as a skeleton through which Simon shone a virtual light in Aftereffects. The resulting shadows evoke a real puppet theatre. Apparently twisting virtual puppets using Aftereffects is easier than twisting a real puppet. There are more possibilities and fewer restrictions. Vast panoramas and a superb soundtrack were created, resulting in a stunning audio-visual odyssey.
The Me, Marionette animation was broadcast on a large flat-screen television lent by Richer Sounds. The lovely people there didn't ask for a deposit or record the borrowing. Clearly Simon and Graham have very honest faces!
Simon's previous animation clients include Dreams and Goodwood Revival (he did a great comedy voice-over for this one) and a beautiful promo piece using illustrator Lisa Evan's work called 'Starbelly'. He welcomes the current trend towards stop-motion animation, as seen in the likes of Frankenweenie. He doesn't feel form should dictate ideas, believing it should be the other way around. Simon works with a lot of illustrator, he sees the craft as the basis of all animation. He believes more industry types should make the leap to commission illustrators who haven't animated before. Me, Marionette was Graham's first foray into animation and he has received animation work off the back of it. Simon also got commissions thanks to the show.
Graham and Simon both say they get more commercial work through their experimental art. Their creativity thrives with the freedom, diminished time-constraints and more instinctive nature of personal work. Some commissions have been fantastic experiences too though. Graham has half a mind on commercial potential with his fine-art, aiming to create beautiful designer objects people will treasure.
Graham and Simon had so many ideas they weren't able to include them all in the show. We're really looking forward to seeing these ideas appearing in future shows!
http://www.ticktockrobot.co.uk
Lisa Evan's piece here
http://www.ticktockrobot.co.uk/projects/seeking-inspiration
Share:
News archive
2019
2018
2017
2016
2015
2014
2013
2012
2011
2010
2009