Mon 03 Dec 2012 by Siobhan_Harrison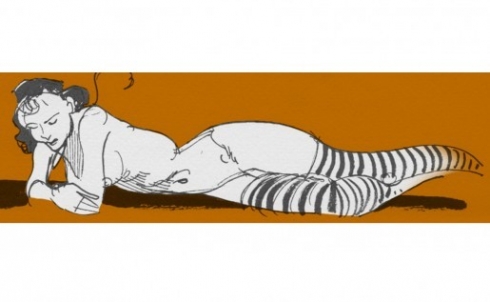 This months BIG event saw the Drawing Circus come to The Old Market Hove, for for a Gormenghast themed drawing extravaganza. The event was led by Draw's Jake Spicer and held in the intimate bar setting – drinks to aid expressive drawing, anyone? Four models (Finola, Felix, Laura and Francesca) enacted scenes from Mervyn Peake's Gormenghast, Titus Groan trilogy. Two corners of the bar were decorated to evoke the gothic atmosphere of the novels, with two models in each setting. Gentle, themed music played throughout the evening and Jake read excerpts from the stories when introducing different poses.
Starting with three minute poses to get everyone's hand-eye co-ordination into gear, the models held longer poses as the evening progressed (leading to exclamations of anguish after holding a tricky pose for half an hour!). There were breaks for drinks, chatting and checking out each others work. It was a wonderfully informal evening with a variety of illustrators, artists and designers in attendance, faces old and new from Brighton Illustrators Group. A number of people mentioned that the Gormenghast books were their favourite novels. They are fantastically imaginative, poetic and moving. Peake's evocative and emotive illustrations are also an inspiration to many.
Draw are a popular life-drawing and art tutorage group based in Brighton. They run drawing events all over the South East of England. Several sessions take place at New England House, Brighton every day.
Draw Brighton http://www.draw-brighton.co.uk/
Brighton Illustrators' Blogs/Life drawing
Geo Parkin http://drawstringblog.wordpress.com/
Paul Cemmick http://cemmickcomics.blogspot.co.uk/
Siobhan Harrison http://siobhanssketchblog.blogspot.co.uk/
Check out the official Mervyn Peake website here http://www.mervynpeake.org/
Write up by Amy Rogers/Siobhan Harrison
Share:
News archive
2019
2018
2017
2016
2015
2014
2013
2012
2011
2010
2009