Sat 17 Sep 2011 by Angela_McKay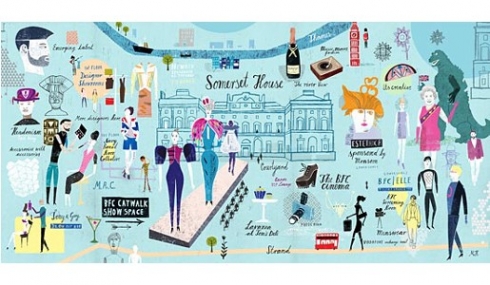 London Fashion Week
With September now in full swing, exciting things have been happening here!
Not one to be left out of all things London, the Berlin based Martin Haake has been commissioned by Design By Music to create this year's banner design for London Fashion Week.
Gracing the entrance of Somerset House the banner is a new take on the fashion event of the year. His charming, naive and colourful illustrations aim to reflect the festivals many aspects encouraging all age groups to get involved - including workshops such as the Tony & Guy Blow Out Bar, emerging talent, nail bars and the BCF cinema.
Edward McGowan
We've just signed the award winning Edward McGowan. Originally from Edinburgh he has a keen eye for bright colours and rough textures combined with cold versatility and warm charm.
His work is characterized by a hand-crafted aesthetic that has served as collateral for a client list including the New York Times, Paste Magazine, American Way, HSBC, and Time Out, to name a few.
My Times Plus
Since big and beautiful is very much in this season we must show you these large scale illustrations by Brian Grimwood and Simon Spilsbury for My Times Plus.
Commissioned by the award winning CHI & Partners to promote the added benefits for The Times subscribers who can expect an offering of exclusive features and extras.
Here's the 'making-of' video which was a lot of fun to make!
Parko Polo
Another news signing to the agency is Parko Polo - the 'night time coffee addict who came from a petri dish' has a subtle, colourful and twisted style.
The alter ego of the mild-mannered illustrator Edward McGowan (shhhh) Parko Polo comes out at night.
Ballista Magazine said this about him "We can only assume this working relationship is akin to the shoemaker and the elves" Excellent.
Futuristic Plastic
We love the latest paintings by Paul Slater for Tesco Bank at Goodwood Festival. Commissioned by WDMP the works will be used in print throughout the festival including handout booklets and posters.
The idea was to capture a retro feeling whilst also adding a sense of humour to the pieces which is why Paul was perfect for the job. He traditionally paints so the images retain the old feel while the copy brings them into the modern day.
(If you would like to see Paul's paintings in the flesh his retrospective at The Union Club in Soho is only on until October 6th so get in touch as it's appointment only)
Paris Escapades
Sir Peter Blake has recently completed his collages for Paris Escapades. A follow-up to his superbly received Venice Fantasies, Blake is back with 28 images in the guise of visual stories.
Published by Enitharmon Editions the book includes the artists's commentaries on the Seine freezing over, mass kiss-ins and elephants hoisted over Notre Dame. Interviewed by Marco Livingstone, the introduction to the book looks at Blake's lifelong love of collage.
For more daily ramblings, works and inspirations please check out:
Our website.
Our debut book License To Inspire is now available through the CIA Shop, Magma, Tate Modern, Royal Academy Shop & Waterstones.
You can get your daily dose of inspiration on the CIA blog.
You can follow us on Twitter.
Maybe even like us on Facebook.
Or visit our YouTube channel.
More soon,

CIA
Share:
News archive
2019
2018
2017
2016
2015
2014
2013
2012
2011
2010
2009