Wed 21 Nov 2012 by Emma_McCann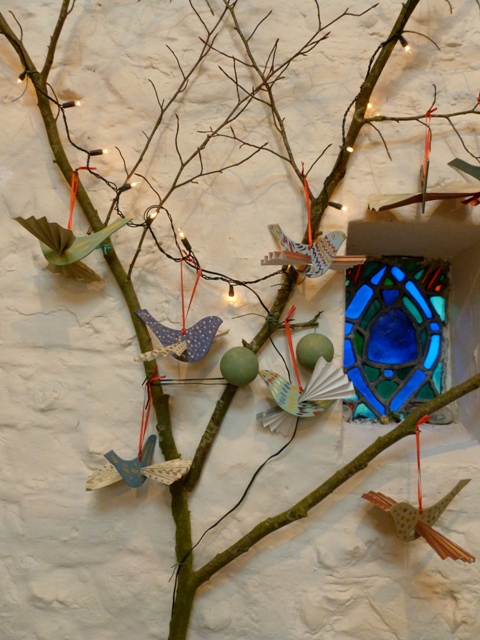 There some lovely Christmas themed workshops coming up at Charleston offering a special rate for Brighton Illustrator friends and members! For the Hand Printed Christmas Cards workshop and the Millinery workshop, Charleston are offering a special 'Introduce a friend to Charleston' offer, so with each full price ticket bought another can be bought for half price.

Details of these two workshops, along with their Christmas wreaths and decorations workshops, are below with a link to the website.

Readers should phone Charleston on 01323 811626 to book tickets for workshops and quote 'Brighton Illustrators at Charleston offer'

Woodcut Christmas Cards With Helen Brown: Friday 23 November | Charleston
10am – 4pm
£85.00, includes all materials and a warming lunch
Taking homemade cards to a whole new level, this workshop is run by master printer Helen Brown. She will show you how to create a collection of beautiful hand printed cards and introduce different printing methods for you to experiment with. Working in Japanese soft wood on a small printing press you will be amazed by the effortless production process and the lovely images that will ensue. Your Christmas cards are likely to make their way on to the very best-dressed mantelpieces as the star attraction!
Artists' Christmas Cards
Many artists and designers over the years, including Alexander Calder, Philip Guston and Yves Saint Laurent, have created their own homemade Christmas cards, specially to send to friends and family.

Inspired by this tradition we have looked into the collection at Charleston to discover a selection of Christmas cards and calendars created by Quentin Bell, Vanessa Bell and Duncan Grant. These examples are a mix of hand drawn, printed and painted works. Alternatively you might like to view Vanessa Bell's painted calendars as inspiration for a Christmas card that lasts all year round!

Examples of Christmas cards produced by other famous artists which have featured in exhibitions can also be seen by clicking on the following links: Pallant House and Smithsonian.



Christmas Party Millinery with Katherine Elizabeth: Thursday 29 November | Charleston
10am – 4pm
£85.00, includes all materials and a warming lunch

The Christmas party season has to be one of the best excuses for getting dressed up, whether it be for the annual workplace do, or an altogether wilder affair. Hats can work for you in a number of wonderful ways. As a statement piece the hat will do all the talking, so the rest of the outfit doesn't need to work so hard. Alternatively it's a perfect opportunity to wear the tried and tested LBD* in your wardrobe with a fresh twist! Or, put the topspin on a new outfit adding a surprise element of glamour. Join us for a fantastic fun day and get a head start on making heads turn with your own unique hat!

Gilded Christmas Decorations With Sophie Coryndon: Thursday 6 December | Charleston
9.30am – 12.30pm or 1.30pm – 4pm
£40.00, includes all materials and a delicious treat

Who doesn't love a bit of sparkle at Christmas? Give your tree a golden glow this year with the addition of your own decorations and create the heirlooms of the future . Working with artist Sophie Coryndon, you will learn the art of gilding by applying this technique to wooden Christmas decorations. This is a fabulous skill which you can apply to bigger projects like mirrors or bespoke picture frames back at home. The workshop is inspired by Sophie's latest work which includes gilded cocktail cabinets with Chinoiserie motifs.
Golden Delights
With the nights drawing in, a touch of extra sparkle at home, whether from the flicker of a candle or the crackle of an open fire, can brighten the room and one's spirits! The opulence of metallics may suggest the decadence of St. Petersburg or the music room of the Royal Pavilion in Brighton; whichever it is the theatrical quality of gilding brings glamour to the party season. Learn how to add just a hint of gilded gold to your own Christmas decorations and ensure you don't miss this current trend!

Artist Sophie Coryndon will demonstrate how gilding is applied following which you will have an opportunity to create your own Gilded Christmas Decorations, on Thursday 6 December from either 9.30am – 12.30pm or 1.30pm – 4pm. £40 includes all materials and a delicious treat.


Christmas Wreaths With Will Vincent: Friday 7 December | Charleston
9.30am – 12.30pm or 1.30pm – 4pm
£40.00, includes all materials and a delicious treat
Celebrity florist Will Vincent has been a regular contributor at Charleston since his relocation to Sussex. Following on from his sell-out workshop last December, Will returns to add even more drama, elegance and expertise to your Christmas wreath. Using a variety of materials and florists tricks-of-the-trade, you will learn how to create a wreath from scratch reflecting your individual style. Be the best dressed front door on the street and create a talking point for your friends, family and festive visitors to enjoy. Why not bring along a friend or neighbour to add an element of good old fashioned fun.

Find out more at www.charleston.org.uk/products-page/workshops
Share:
News archive
2019
2018
2017
2016
2015
2014
2013
2012
2011
2010
2009