Wed 25 Jan 2012 by Angela_McKay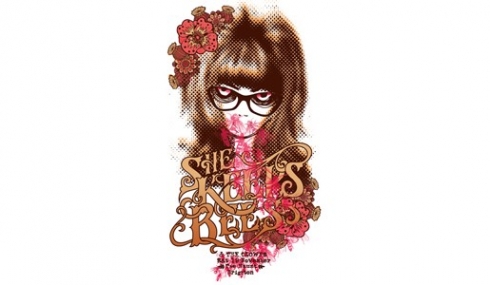 Brighton based underground screen-printing legends BRAG collective have been sponsored by UKPA and UK Trade and Investment to travel to the SXSW festival in Austin Texas, in March 2012. The group will be taking a stand at the world famous Flatstock poster show alongside rock poster screen-printing royalty from all over the world.
Jemma from BRAG says, "We are totally thrilled to be able to take the group's posters to SXSW in Austin and are honoured that UK Trade & Investment AND UKPA have sponsored out trip. We hope to help spread the word about the thriving UK gig poster scene and showcase the unique talent and creativity of our poster designers working here in Brighton"
BRAG collective
BRAG collective is a Brighton (UK) based group of artists who formed in the wake of inspiring screen-printing masterclasses given by Chuck Sperry of Firehouse and Mike King in May 2006.
The group hit the ground running, immediately making a name for themselves with an article in Creative Review, and being commissioned to make posters for bands and artists all over the world. They have exhibited in the US, Europe and all over the UK doing shows with other artists and forging links with the gig poster community.
In 2008 they invited Firehouse back to Brighton for a collaborative show displaying over 500 gig posters. During the 3 days nearly 1000 people came to view.
Group members are mostly drawn from the art and illustration community, and all work on their own individual projects as well as working collaboratively on others. Inspired by a love of screen-print and poster art, and a collective urge to share skills, learn new ones and to support and nurture the burgeoning British rock-art scene.
Recently members of BRAG had the honour of having posters requested for the V&A Museum's poster collection, and as a group were invited to view the poster archives at the museum. 2012, sees the collective exhibiting extensively as well as working on a book and posters for a large UK festival. This will be the second year they take part in the SXSW FLATSTOCK show.
Flatstock
Sponsored by HGTV and Co-presented by the American Poster Institute (API) and SXSW, Flatstock 33 will display the works of more than 100 artists from across North America and the globe. The exhibition is free and open-to-the-public running March 14-17 2012 and features posters representing decades of styles, colors and techniques for sale. Show up early and be ready to be overwhelmed with amazing posters. (You might want to bring some dough since you won't want to leave empty handed!) The exhibition is free and open to the public.
"Every March, thousands of young, jeans-wearing techies, filmmakers and musicians descend upon Austin, Texas, harboring dreams of getting noticed and hitting it big. They come not just for the balmy weather or the Tex-Mex food but for South by Southwest, a collection of conferences and festivals that's considered one of the most influential happenings on the annual cultural calendar." -- CNN, March 10, 2011
http://www.americanposterinstitute.com/flatstock
UKPA
The UKPA (UK Poster Association) is an umbrella organization created to help support and promote the work of UK poster artists.
The UKPA is an organising body and web resource set up to promote the UK gig poster scene, with a focus on limited edition, screenprinted works. The UK possesses a vast wealth of talent within the field of gig poster design that finds its roots in both the concert posters of Britain's musical past as well its contemporary American counterparts. As the scene continues to grow this side of the pond, UKPA hopes to offer help and information about those working within it, how clients can go about commissioning work, as well as promoting and supporting exhibitions of these artists.
Press Contact
Jemma Treweek
+44 (0)7867612097
IMAGE TITLE
She Keeps Bees by Jemma Treweek and Dan Johnson
Share:
News archive
2019
2018
2017
2016
2015
2014
2013
2012
2011
2010
2009