Wed 31 Mar 2010 by Emma_McCann
Hello, hello, hello. It seems barely five minutes since it was Christmas, but here we are with April and Easter. This months' Biscuits are in the shape of fluffy bunnies and chirpy chicks, and I'm sure they could be dipped in chocolate, too. Anyway, let's stop stuffing ourselves with confectionery and take a look at what interesting gubbins is happening on the net right now.
Upcoming Exhibition: Pick Me Up: Contemporary Graphic Art Fair at Somerset House.

The blurb says: Somerset House presents Pick Me Up, the first contemporary graphic art fair in the UK. The fair will bring together the most exciting graphic artists working today, giving you the opportunity to buy limited edition, affordable graphic art, illustration and design.
The fair includes an open studio from paper cutting genius Rob Ryan, pop-up print workshop from Print Club London and an evening Glug event. Looks very interesting and worth the trek up to Lahhdahhn Tahhhn.
It runs from 23rd April - 3rd May 2010 at the Embankment Galleries, South Wing, Somerset House. It'll cost you £5 to get in, concessions £4. It's open daily 10.00-19.00, until 20.00 on Fri 23rd April and Thur 29th April with the Glug evening on Wed 28th April, 19.00-22.30, £7.50. Click on the title link above for more info.
Design studio/online shop Present&Correct is currently offering up books for sale with fab front covers by Dutch illustrator Dick Bruna, best known as the creator of Miffy. The books are from the collection of P&C's founder, Neal Whittington. Check them out, but hurry, there aren't many left. There are actually loads of great books featured on the site, so do take a minute to have a browse through; really inspirational.
Marmite's Parallel Election Campaign

This just made me laugh out loud as I would firmly be in the "Hate" camp. It's all in the Guardian article linked above, but, basically, Marmite is running its own election with rival LOVE and HATE parties campaigning for and against its product. They even have their own Facebook groups. Can't wait to see some "Tarmite", myself.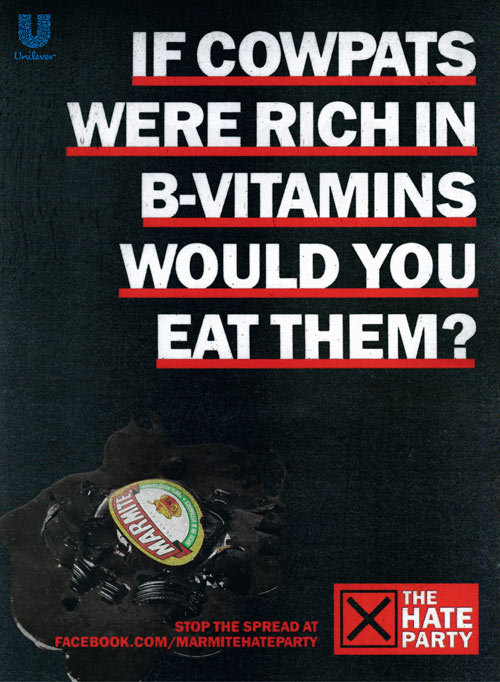 Nice article from Print Mag about how Pantone has been spreading its colours and its brand over household products and the like. The blurb says: Every designer knows Pantone's color matching system, in which a color's specific number identifies the precise shade with fidelity through print jobs, identity work, web executions—all the places a signature color might be used. Pantone may not be a household name on par with Crayola or Kraft, but that's exactly the point: Its branded products invite you into design's inside-baseball syntax, a badge of the buyer's knowledge. Like a Polaroid, the Pantone logo and number frames a basic solid color in a vigorous, compact meta-commentary.
So there you go. It's interesting stuff.
Playboy Celebrates 50th Anniversary of Iconic Bunny with Exhibition
An interesting exhibition in the good, old US of A celebrating the 50th Anniversary of the Playboy Bunny. The blurb says: Playboy Enterprises, Inc. and The Andy Warhol Museum invited more than 20 emerging and established artists to reinterpret the iconic Playboy Bunny in a variety of mediums for "Playboy Redux: Contemporary Artists Interpret the Iconic Playboy Bunny", a new exhibition that will open at the Pittsburgh museum on March 27, 2010.
With the likes of Tara McPherson and Tim Biskup involved, it's not at all the sleaze-fest you might imagine. Take a look.
Nice collection of, surprisingly, 101 Alphabets in a great Flickr set from Diane Witman.
Biscuit of the Month......

Well, I've decided to shelve this illustration malarkey and start making my own biscuits for a living. I'm going to get myself some premises on the seafront, get up at 4am everyday to bake biscuits, cookies, cakes and more for the good people of Brighton. I'm even planning to have a floating cake stall on a cycle-powered platform that I can ride up and down the shore to sell my wares from in the summer. All donations to my business fund gratefully received.
Anything particular you'd like to see featured next time? Just email me to let me know. Thanks.
Share:
News archive
2019
2018
2017
2016
2015
2014
2013
2012
2011
2010
2009