Mon 16 May 2016 by Garry_Robson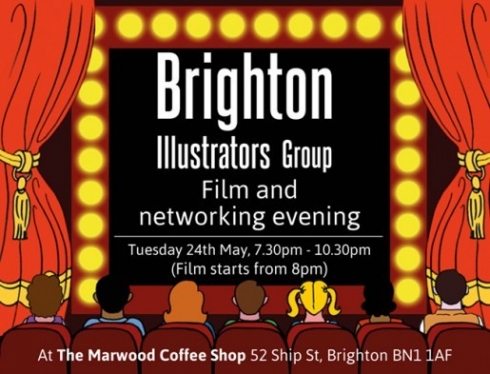 Date: Tuesday 24th May
Time: 7.30pm - 10.30pm
Film starts from 8pm (approx. 50 mins)
Venue: The Marwood Coffee Shop (upstairs)
Venue address: 52 Ship St, Brighton BN1 1AF
This is the first in a new type of BiG meeting where we are providing a space for members to network and get to know more about each other and the work we all do as illustrators. We will be organising these meetings occasionally, in-between our bigger presentation meetings.
We don't always get time to chat among ourselves at every BiG meeting so these new format meetings are intended to encourage this over a drink and a film. There is a lot of knowledge within BiG as a whole and meetings like this can help us share that with each other.
Films, drinks and a chat
The kinds of films we will be showing at these meetings are about the work of famous illustrators or particular types of illustration and how it's used in areas such as film and theatre production, fashion design and animation etc. We hope the films will help to provide some inspiration, fun and some discussion.
We have a number of films lined up for these meetings, and the first one is...
The making of the Dark Crystal (approx. 50mins)
This was a Jim Henson fantasy movie from 1982 and its production design was based on the work of UK illustrator Brian Froud. Brian Froud also designed the characters and sets featured in the film, so this is a great example of how essential the work and vision of an illustrator can be to any production. The 'making of' film shows how the illustrations by Froud are realised by the film production team from first sketches to completed puppets, costumes and sets.
If you've never seen The Dark Crystal or can't remember it, take a look at the movie trailer here.
About Brian Froud, fantasy and folklore illustrator:
http://www.worldoffroud.com/

Venue address and map:
The Marwood Coffee Shop 52 Ship St, Brighton BN1 1AF
MAP
Share:
News archive
2019
2018
2017
2016
2015
2014
2013
2012
2011
2010
2009