Tue 31 Aug 2010 by Penny_Dann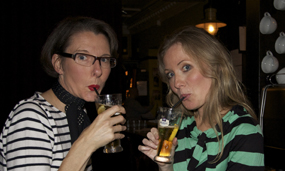 It was supposed to be a roof top party! However as you will recall the heavens kept opening on a regular basis last week so we gathered to drink our Pimms (and pretend it was still summer) cosily encircled by the theatrical red velvet curtains of Grand Central's downstairs bar.
We hope all the hardy souls who ventured out had a good night, it was lovely to see some new faces, and some familiar. Take a look at the pics, kindly provided by Tom and Siobhan.
PS Since the last B.i.G. Christmas party coincided with the first snowfall of the winter and the rain last week was so un-summery, please be prepared for extreme weather events around the time of the next event!
Share:
News archive
2019
2018
2017
2016
2015
2014
2013
2012
2011
2010
2009