Thu 20 Mar 2014 by Amy_Rogers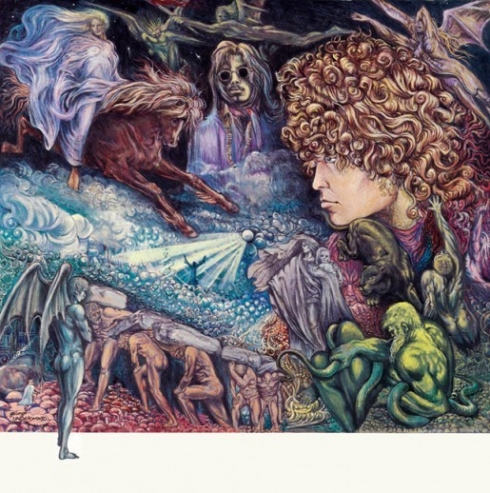 Fantastic BIG illustrator Alan Baker takes us through his key inspiations:
These things connect and form a journey that inspired my teenage years and gave me my love of illustration. A very strong inspiration was my first hearing the group Tyrannosaurus Rex.
The first song I heard was deboraarobed and was broadcast on a Sunday radio program hosted by John peel in the 1960's 'The perfumed garden.' Tyrannosaurus Rex went on to huge success in the 1970's as T.Rex. But I loved them as a duo. Marc Bolan had such a weird quavering voice and when I first heard it, it stopped me in my tracks. His lyrics were also so strange and quite beautiful. It will all sound very twee now-all about elves and fantasy, but it somehow fitted with the hippy zeitgeist. It fitted perfectly with the world that my teenage mind wanted to inhabit. I did a series of hitchhiking trips. One took me to Iran.
Sleeping in a park one night, I was woken at sunrise by the wailing call to prayers coom a mosque. It was magical. It felt like discovering where Marc Bolan had found his vibrato sound. The various trips changed my life and was the fulcrum that made me decide to follow my dream, to be an illustrator. It was very expensive to buy albums, but I saved up a bought the first album by Tyrannosaurus Rex called 'My people were fair and had sky in their hair' That led to another strong inspiration- That cover artwork. It was by the artist George underwood and was a montage of magical images.
It informed my own fantasy work [and still does] I was fortunate to meet him once as we were working for the same client-he has an amazing eye for colour. That led to another inspiration when, quite by accident I found out where George Underwood took his inspiration. I was in a secondhand book shop in Brighton and happened upon this large broken book of engravings by Gustave Dore. 'Paradise Lost.' It was just a pile of battered pages, the binding had long gone but the images were in perfect condition. George had taken a lot of his images straight from this series. I offered five pounds and it was mine!
I still have it. It still inspires. Alan Baker
Share:
News archive
2019
2018
2017
2016
2015
2014
2013
2012
2011
2010
2009