Fri 06 Nov 2009 by Belen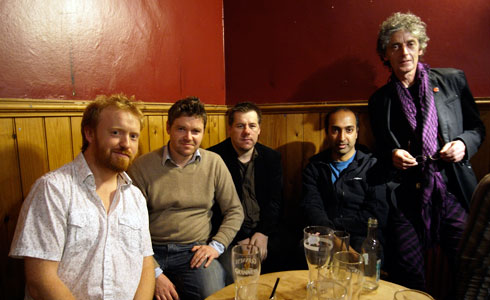 It was a full house upstairs at The Eagle pub. A drink or two fuelled the friendly atmosphere and the evening kicked off with Alan Baker's choice of six images.

He took us all by surprise with an aerial shot of his magical home, a photograph achieved by ingenious catapult technology! With great generosity, Alan invited us into his home and the tales therein, one of which has the makings of a cautionary modern day fairy tale.

Deftly, he wowed us with the natural history charts he produced for The Guardian. On one day alone, he drew 50 insects ultimately causing him RSI towards the end of the whole project. I was beginning to feel like a lazy so-and-so but I can only be grateful for his dedication, as his charts have long decorated my son's bedroom and have been pored over by many little people. The Guardian's refusal to print 'T Rex Gores Little Cute Things' was a pity as I know for sure how popular this chart would have been. Alan's resourcefulness and versatility were illustrated by the drawings he did of trailer plans for someone in Newhaven, who seemed to me not to deserve them! Alan's escapades as an illustrator show that despite the onerous bits, it is neither a dull nor predictable life.

Lee Woodgate stepped in for Vicky Woodgate and explained how his work had began in editorial illustration, such as The Guardian. An early piece followed by later drawings showed how Lee has been developing his work over time. He often covers current news events and his use of Photoshop, collage and print effects create urban, edgy images. Lee explained the virtues of not designing an all over image but of leaving white space on the page which editors like as it helps them to visualise where the text might go. Lee also touched on the irritations of being commissioned and how he continues to experiment with his work in order to compensate for this. His last image was a departure from modern life, sepia toned, historical and enigmatic.

Next up, Allan Sanders who has also being busy experimenting and developing his work. He is studying print making and the process has influenced the resultant work. Although Allan's visual language remains bold and graphic, the restrictions of printing have meant a reduced colour palette and hand-made look which the audience felt was very successful and made the images more powerful. Allan keeps sketch books on the go and is engaged in pursuing his own interests as an artist.

After a short break, we were jolted back to business by Nishant Choksi's striking image for a man's magazine. Nishant spoke with passion about the need to take control of his work, take time off to develop work and the need to have clear goals. The payoff for him has been that his commercial and personal work are merging and not at odds with each other. He also referred to the source of his inspiration; 40's and 50's illustrations. They seem to serve as a touchstone that keep his intentions clear. Currently he is drawing with brushes, stripping ideas right down and aiming for spontaneity.

Graham Carter reminded us how being in the right place at the right time pays dividends, and so began his commercial career with Saatchi. For a later commission, Graham made a beautiful print Serendipity Autumn which not only changed his way of working but took his work in another direction. He has set up a print studio and his work is highly sought after. Graham explained the complexities of moving between hand printing and computer-generated imagery, a theme which ran through the evening. He also proved that letting your mind wander on train journeys is essential for creativity, hence the wonderful Yeti print.

Bill Donohoe brought us back full circle. He brought in fabulous, original art work from his early illustration days in the 1970s. His highly skilled, realistic style in acrylic and airbrush spoke of a whole era of illustration, one that was killed off overnight by Photoshop. Bill embraced computers but continued to paint detailed work for encyclopedias, reference and children's books. His commissions also included covers for Dr Who books. Bill shared his pet project with us, Hydra, an ingenious board game he has designed. He is working with his son to perhaps convert it into a computer game instead, keep us posted Bill! He rounded the evening off by showing us a painting from a series, Forests of the World, which he works on in his spare time. It was a labour of love and the sort of picture that should you come across it in a book would not only reward repeated viewing but allow you to enter another world.

We'd like to thank our 6X6 contributors for a thoroughly entertaining and stimulating evening. In the image above you can see Graham Carter, Lee Woodgate, Allan Sanders, Nishant Choksi and Alan Baker - Bill Donohoe was fielding questions about his board game at the time!
www.leewoodgate.com

www.loopland.net

www.graham-carter.co.uk

www.nishantchoksi.com
Share:
News archive
2019
2018
2017
2016
2015
2014
2013
2012
2011
2010
2009