Tue 19 Feb 2013 by Jo_Moore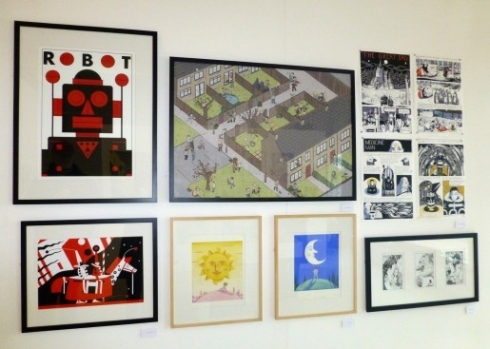 Last Thursday BIG members had a pre Private View viewing of the Brighton University Illustration show 'then, now, after…'.The show features work from graduates and staff from Brighton University (sorry, but it's still Brighton Poly to me). We were lucky enough to be given an introduction to the work by illustration tutor Roderick Mills, who outlined the development of the show from an idea discussed in a pub with another tutor (isn't that where many great ideas start?) to it's final incarnation as this exhibition.
A late and unexpected vacancy at the University Gallery meant that the show had to be organised at extremely short notice and past staff and graduates were emailed shortly before Christmas to ask if they would contribute to the show. Over 120 people responded and the job of selecting work fell to Paul Burgess, Roderick Mills and Andrew Haslam with consultation from George Hardie and John Vernon Lord. The whole show was mounted on a shoestring budget (a figure of £185 was mentioned at the private view) and the dedication of the staff and students.
Roderick Mills explained how the show was divided into twelve themed areas; the Drawers, the Makers, the Storytellers, the Thinkers, the Designers, the Entrepreneurs, the Reporters, the Art Directors, the Multi-Disciplinarians, the Film Makers, the Visionaries and the Explorers. The work was intentionally unlabelled (other than a name) and undated. Although he did feel there could be a place for a more comprehensive and chronological exhibition at another time.
Roderick stated that a show of this nature could only be staged by Brighton University students and staff as the college has a very particular and special atmosphere. This was endorsed by ex-Brighton students and BIG members who were present; David O'Connor and Jo Moore agreed that connections made at the college and to Brighton remain strong. Many Brighton students stay in the town after graduation and continue to live and work in the city. And who can blame them? Brighton (the town) has always had a reputation for acceptance, particularly of 'creative types' such as artists and actors. And the obvious proximity to London means a dash to the capital after college is not automatic. Roderick mentioned that the city's character pervades the students' illustration, whether it's the second-hand shops, the seafront or the beach, it all informs the work and the references used. But that's not to say that the work produced by Brighton graduates isn't contemporary or innovative; quite the opposite. There is also an awareness of continuity from each generation to the next.
We were able to have a good look at the show prior to the Private View, which was postponed from the beginning of the exhibition due to the snow. It was a real treat to see the work of so many distinguished illustrators past and present, truly too numerous to list. However, at a risk of contradicting myself Andrew Restall's sheets of stamp designs (actual size) from the 1970s were much pored over and admired. The overwhelming feeling of the show was the sheer volume of talent, an extraordinary range of creativity and a high level of skill.
Returning later for the Private View was an opportunity to catch up with many familiar faces; Chris Riddell, Justin Todd, Chris McEwan and Carol Lawson, Alan Baker, Graham Rawle, Margaret Huber, Gary Goodman, Neil Gower, Leo Duff, Jason Ford, Roger Dean, Jasper Goodall, Sally Symes, Lawrence Zeegan, Gary Powell, Ceri Amplett and Ian Wright to name a few spotted. There were short speeches by Andrew Haslam, Paul Burgess, Roderick Mills and a final comment was left to John Lord. He spoke very movingly about his time teaching at Brighton and the many students he fondly remembers (many of who were present). In summing up the exhibition he commented that the work of illustrators is not designed to be seen as Fine Art hanging in a gallery. It's role is to be seen alongside something (a narrative, text, on packing etc.). That is it's function. It looks twice as good when seen in context. I must admit I agree and I would like to have seen some information about whether the work on show was for a commission or purely self-generated (I know that's probably terribly old fashioned). The work on the wall had no accompanying explanation and it was only by chatting to one of the tutors I discovered who the prestigious client was and that it was a commission for a large collection of illustrations. Perhaps there is a squeamishness about 'commercial art'?
I also had a long conversation with Wendy Coates-Smith (former Illustration Course Leader at Central St Martins) about how I felt slightly depressed that the four speakers (and full time course tutors) were all men. I have absolutely nothing against male tutors, but where are the women? Margaret Huber is Course Leader of the MA Sequential Illustration Course but other than that it was rather too familiar and reminded me of being a student in the 1980s before Liz Leyland and Wendy Smith arrived. The illustration course at Brighton has always had a high percentage of female students and it's important they have role models showing that it is possible to survive being an illustrator…after all, I've somehow managed it.
A great show, long overdue. Sadly, as it's finished you won't be able to rush and see it. There is some discussion as to whether it may be revived and refreshed at a future date.
Share:
News archive
2019
2018
2017
2016
2015
2014
2013
2012
2011
2010
2009