Mon 27 May 2013 by Gallit_Shaltiel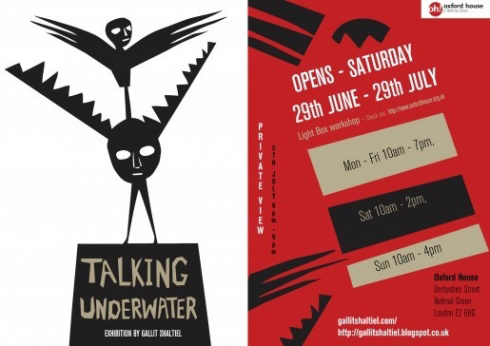 Gallit Shaltiel is a brighton based artist /illustrator and educator, launching her first solo London show at Oxford House.
'Talking Underwater' is a black and white print exhibition, using dark humour to convey the complex feelings of distressed and depressed states of mind.
Influenced by Buster Keaton style slapstick, one figure struggles to break free of a concrete block of flats while another attempts to balance a spinning wheel on its back
The images are created by hand cut card silhouettes, transformed through photography on a light box. The artist will also be giving an insight into her practice through running a light box and silhouette workshop. The outcomes will be exhibited alongside the exhibition in time for the Private View.
Keep a look out on the Oxford House website and artist blog for details on the light box workshop!
For the opening night the stop motion animation 'flats' will be shown
Share:
News archive
2019
2018
2017
2016
2015
2014
2013
2012
2011
2010
2009