Fri 17 Sep 2010 by Siobhan_Harrison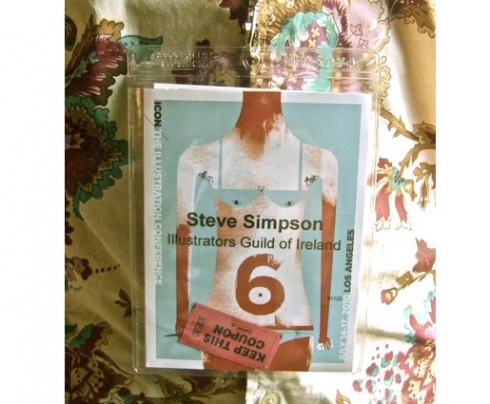 In early July IGI member, Steve Simpson, travelled from Dublin to sunny California for the biennial US illustration conference, ICON. Here's his diary from the event:

After spending a couple of days acclimatizing on Jim Morrisons's weird & wonderful Venice Beach it was time to head for the conference venue, The Langham Hotel, formerly the Ritz Carlton, in the baking heat of Pasadena.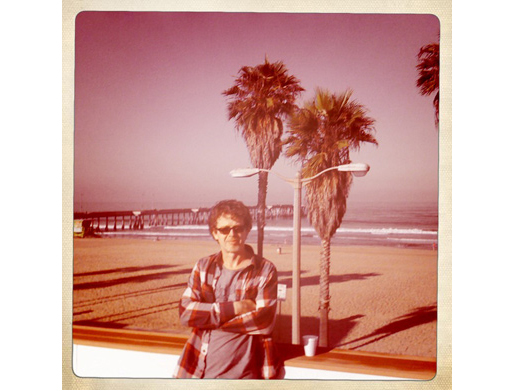 This was the 6th ICON, previous conferences having been held in Santa Fe, Philadelphia, San Francisco and New York City. This unique, global conference unites more than 600 highly-skilled, independent, entrepreneurial illustrators, educators, students and creative professionals from all media. Being an ICON virgin I wasn't exactly sure what to expect. Would I return to Ireland enthused and invigorated or overwhelmed & depressed. In the current economic climate, how many illustrators were feeling the pinch? Would I find green shoots peeking through the soggy mush of last year's failed crops?
After attending last year's outstanding OFFSET conference in Dublin (Check out this year's superb lineup of speakers, October 1-3) I'd hoped for a similar mix of inspiration, enthusiasm and friendly banter. As it turned out, my experience of ICON can be best described by fellow illustrator, Aileen Holmes, as a summer camp for illustrators.

Prior to leaving Ireland I'd touched base and exchanged emails with a few of our American illustrator cousins via Facebook. I was also sharing a room with the UK illustrator and AOI chairman, Rod Hunt who I met in the hotel bar for a few (not exactly cheap) beers that evening.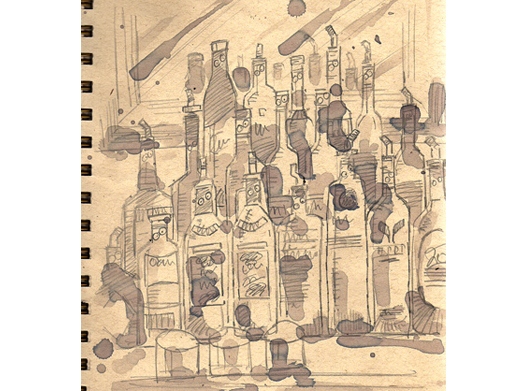 There was so much information and inspiration on offer over the next few days it would be difficult to condense it into this post so I'm adding a few links at the end if anyone wants to take a more in depth look at any particular area.

Wednesday

The conference ran for 4 days and kicked off with a number of mini illustrative excursions. I'd picked a minibus trip into Chinatown for a Film Noir life drawing session with top illustrators Jeffrey Smith and Paul Rogers. Actors played out the parts of Jack Nicholson & Faye Dunaway from the classic film, Chinatown.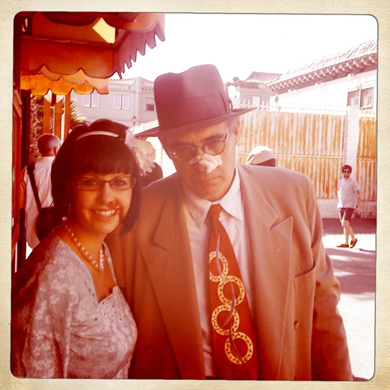 Shade was at a premium for the 3 hour session and a post session beer was more than welcome.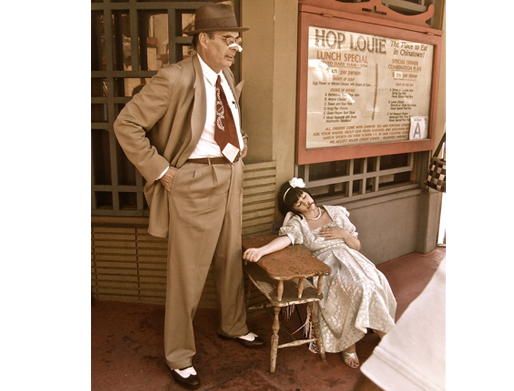 Other trips, included a visit to The Clayton Brothers Studio & workshop with Veteran of Disney Feature Animation, Nickelodeon and Sony Pictures, Will Weston.

Oh, and there was a ICON soccer match which I missed due to the post life-drawing beer, ooops.

That evening the conference kicked into gear with a roof top cocktail party at the Arts Centre where conference attendees mixed with students to exchange thoughts on the current illustration climate and the forthcoming ICON line-up. With so many new faces and terrible memory for names, I was really starting to appreciate the huge name tags.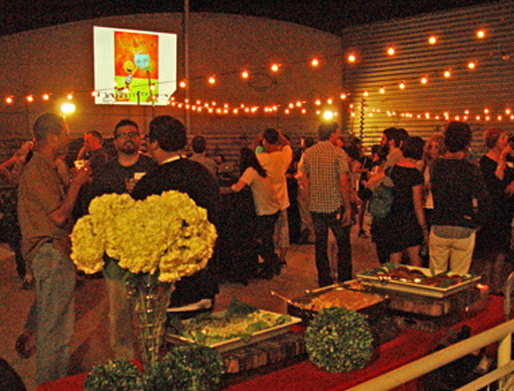 photo Michael Dooley

Escape from Illustration Island's video on the Arts Center Cockatil Party and the Picture Mechanics Exhibition at the La Luz de Jesus Gallery in Hollywood.

Thursday

The following day I attended a workshop by illustrator and artist Jeff Soto talking about the influence his days as a teenage graffiti artists has had on his style, how he got his first breaks in illustration by targeting NY art directors with a 3 week salvo and the importance of promotional projects. Jeff also did a quick (less than an hour) painting demo using acrylics on board (with a little help from his trusty hairdryer).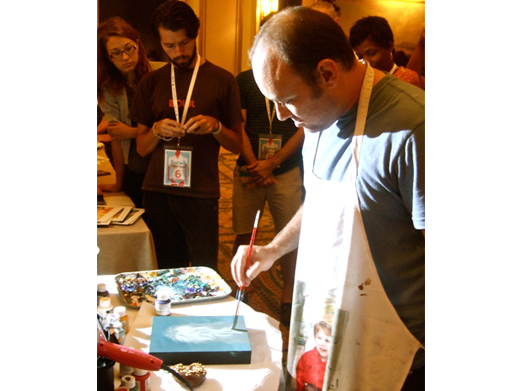 Edel Rodriguez posted this photo of the completed demo painting along with half eaten donut.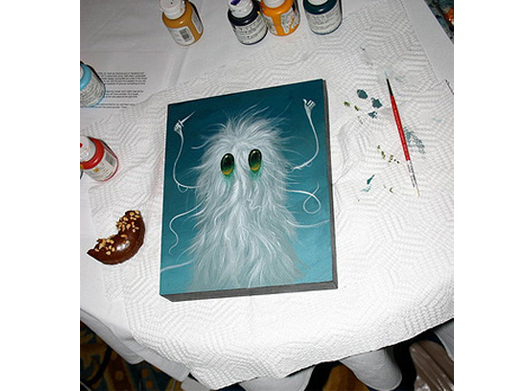 Before the opening Keynote there was the Roadshow Portfolio Salon where an international collection of 200 Illustrators showed off their wears to an invited guest list of Art Directors, Editors, and Art Buyers with cocktails and nibbles. I enjoyed this event and was more than happy with the feedback and contacts I made. (although at first it did feel like I was selling time share at a holiday expo:)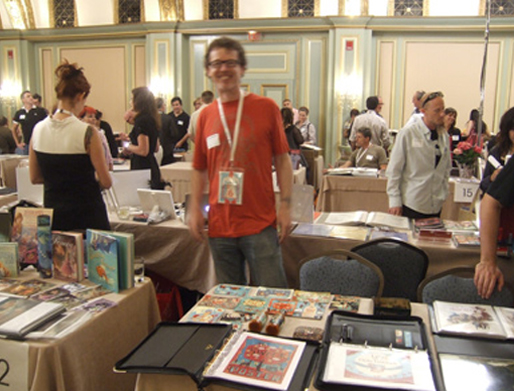 Road show video (I'm in there somewhere) courtesy again of EFII

The Opening Keynote, entitled 'The Future of Publishing- The Great Transformation',was moderated by Roger Black, Roger Black Studios, Scott Dadich, WIRED, Kelly Doe, The New York Times, Jim Heimann, Taschen America, and Jeremy Clark from Adobe.

With the advent of the iPad it was suggested editorial illustrators should adopt the new technologies and become illustrator/animators to supply the publishers with media rich content (in layered form). At the same time it was even suggested the title "illustrator" was probably an out dated term and we should consider calling ourselves something more appropriate to the times(?). But it was the to animate or not to animate debate that put some heat into the conference. The general consensus seemed to be along the lines of "learn another program?" "do we get paid more?" and "I don't want to be an animator!"

EFII have the opening keynote on their website, parts 1 -4

Michael Dooley of Print magazine canvassed a variety of professionals (including myself) to share their viewpoints on the matter for their Imprint blog:

ICON Reax, Part 1: Is Animation the Future of Illustration

ICON Reax, Part 2: Is Animation the Future of Illustration

Opening night was put to bed with a few drinks and a party in the Viennese Ballroom overlooking the swimming pool

Friday

Illustrator Paul Rogers and art director Brian Rea did a great job introducing the speakers and adding a few laughs to the proceedings.

A few high lights from the morning session

Dave Peterson, Chief Marketing Officer, Coverity and Founder of Dave Tee Vee, had some top tips:

Spend 33% of your time marketing
Tell them (the client) your value
Think about what verybody else is goingto do, then do something different
Have a POV
Attack what you hate & embrace what you love!
remember, Illustrators are problem solvers
Kathryn Adams, Illustrator, Instructor Business Practices, Sheridan College and OCAD, on making sense of contracts. Helpful translations (PDF) of the legalese used in contracts

Maria Piscopo's (Author, Graphic Designer's and Illustrator's Guide to Marketing and Promotion) 7 tips to better price negotiation (PDF). (EFII have a video on this presentation)

Next up: Round table lunches. I went to 2, first hosted by Michael Fleischman, author of the excellent "The Drawing Inspiration" and also an engaging session with Rachel Cole, Art Director at Random House. When trying to find a publisher for your writer/illustrator epic, she suggests submitting to one publisher at a time and allowing 6 weeks to get a response.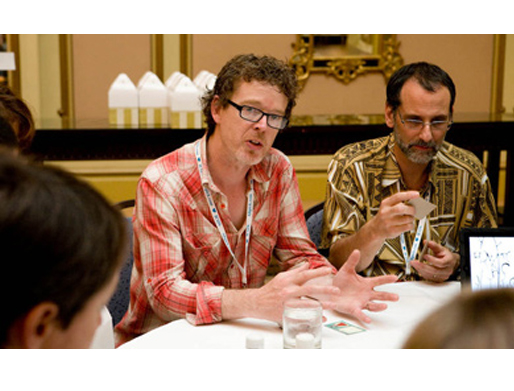 here's me taking over Michael Fleischman's round table lunch, sorry Michael:)

Back on the main stage; Rod Hunt. His session entitled "Euro Smash; Illustration Across the Pond" was crammed full of helpful hints & tips on how to break into the European market (and steal our jobs:).

Illustrators Melinda Beck (you might remember her from the whole "Google – work for free" saga) and Gary Taxali both gave great insights in when you should and shouldn't work for free. Don't do free work for big corporate clients and don't fall for the "it will be good exposure for you" line. Corporate clients can afford to pay. Before agreeing to do free work for charities and friends you need to ask "what's in it for me? Will the exposure potentially lead to more work?" & "what are the promotional benefits? Can I use samples for promos?". Choose wisely.

I should mention the very entertaining video shorts by Jason Holley shown between sessions. A great example on how to keep the essence of the illustration when making it move (is this still called animation?).
Great talks followed by Wayne White (check out some of his type paintings), David Saylor (Scholastic Press) & Todd Oldham who spoke in depth on meeting, archiving and compiling Charlie Harper an Illustrated Life book. Apparently there's a lot more of his unpublished work to look forward to.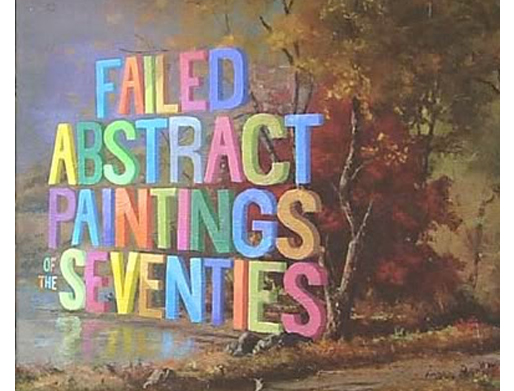 D.B. Dowd, Professor of Art Washington University - Illustration on Mars - Expedition to an Unseen World — A New Theory on the History of Illustration. Sorry fell asleep for that one

Craig Yoe's much anticipated "Secret Identity" presentation - The Fetish Art of Superman's Co-Creator Joe Shuster was a big hit.

Here's the blurb form the ICON site: Pssst! Want to be in on a dirty little secret? Craig Yoe discovered incredible, previously unknown, fetish art by Superman's creator, Joe Shuster, and produced a best-selling coffee table art book "Secret Identity: The Fetish Art of Superman's Co-creator Joe Shuster." Shuster, who sold the rights to Superman for $70, tried to find relief in court, lost and was drummed out of the comic book industry. Falling on hard times, he then did S&M porn for under-the-counter booklets called "Nights of Horror," in the early fifties. The back-story involves the Mob, slinky showgirls, neo-Nazi Jewish juvenile delinquents (known as the Brooklyn Thrill Killers), famed anti-comic book crusader Dr. Frederic Wertham, Senate investigations, corrupt cops, books banned by the Supreme Court, teenage girls being horse-whipped in the park, two murders…and dare we say MORE?" Yoe will reveal the rich history of Superman, Shuster's bondage art and the chilling first-amendment repercussions in a multimedia show laced with laughs and licentiousness.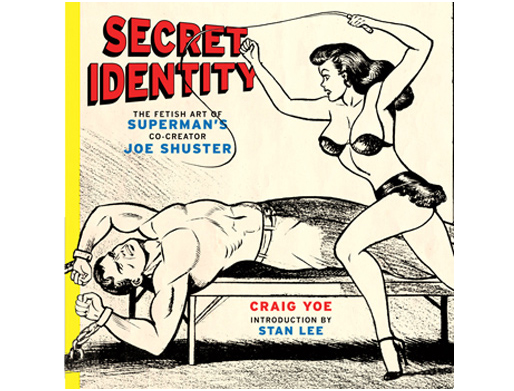 This was followed by Happy Hour and Book Signings (in the bar). Gary Taxali spent almost 10 minutes embellishing a copy of his latest book "This is Silly" for me. Top man!

Saturday

Morning coffee and pastries followed by more coffee

Clone Them: CDs Who Dig Illustration. Soojin Buzelli of Asset International (Plan Sponsor and Plan Advisor Magazines), Irene Gallo of Tor Books and Tor.com, and Sally Morrow of Sandstrom Partners are 3 great advocates of illustration. Soojin (AKA Mrs Chris Buzelli) has an obvious love for illustration and makes the case that illustration enhances the overall value of a publication.

Video link to "creatives who dig illustration" parts 1-4

One of the highlights from the afternoon session was Choose Your Own Adventure - Three Unique Stories from Today's Picture Book World with Illustrators John Hendrix, Istvan Banyai and Adam McCauley. John Hendrix, dressed as John Brown in period outfit and fake beard talked about getting his books published while a highly entertaining Istvan, author and illustrator of the book ZOOM, gave us personal insights into just how difficult it can be (even for a best selling author/illustrators) to even get to talk to publishers these days.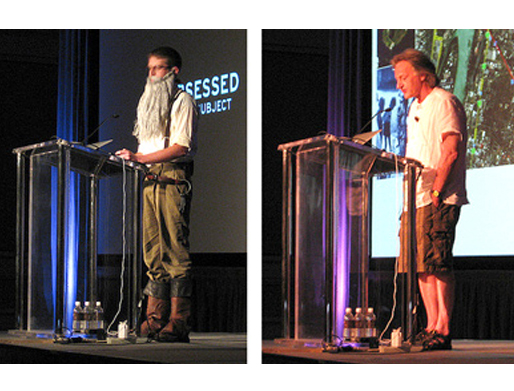 photos by SCAD

"Spread the Word: You are the Brand" with Fernanda Cohen and Yuko Shimizu

Fernanda Cohen

human interaction is valuable. seeing people reminds them you exist
be nice
talk to everyone everywhere!
also listen and be patient
keep telling people what you want to be, they will eventually believe you!
Yuko Shimizu spoke about promotion

website is your main site (not blog, FB, etc)
be professional and consistent
enter competitions
ai-ap.comsociety of illustrators
commarts.com
3×3.com
theaoi.com
spd.org (for published works only)
Tim Biskup was a surprise speaker (but unfortunately I missed that, damn!)

Kathy Altieri of DreamWorks wrapped up proceeding "be sure you know what you love, be sure you do what you love" before Tim Biskup took to the stage again. This time as DJ at the closing party.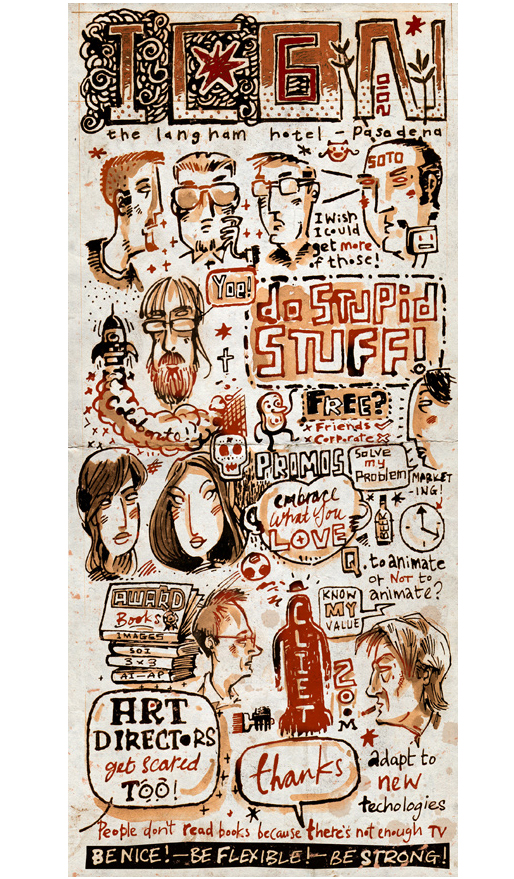 Overall it was an utterly, amazing experience. It more than surpassed my expectations! Several weeks later and I'm still digesting top tips and insights. It was great to see illustrators finding new avenues to promote their work with galleries seemingly more open to the illustrator than ever before. With so much information on line it's easier than ever to revisit and review presentations. Most of all, I value the new friends I made over the 4 days of the conference. Everybody I met was so genuine and friendly. From the big names of illustration who were so encouraging to the enthusiasm of the student volunteers. Hopefully I'll be able to stay in touch through Facebook and email.

Many thanks to the ICON6 Board who did such a fantastic job.

Would I go again… damn yes I would!
Thanks to Steve simpson for this write up.
Share:
News archive
2019
2018
2017
2016
2015
2014
2013
2012
2011
2010
2009