Fri 04 Feb 2011 by Penny_Dann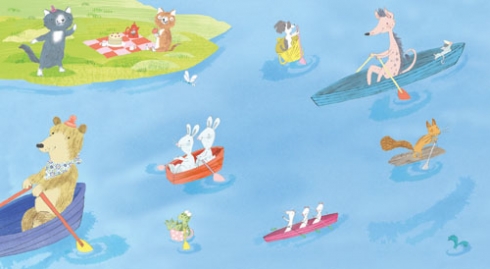 I had some good news lately, I had two pieces accepted for the Society of Illustrators Los Angeles "Illustration West 49" show (si-la.org).
This year over 1600 pieces were entered with the successful entries being exhibited on the SILA website and at an exhibition at Alhambra's Gallery Nucleus.
The work was from Nursery Rhymes for Your Baby (Orchard Books) that I completed last year.
Unfortunately the notice for the exhibition was so short that getting my work over there was pretty impossible (and a darned expensive business) so I opted for the web only part.
This is from the Society's home page-
The Society of Illustrators of Los Angeles was founded in 1953 by a handful of Southern California advertising artists and designers primarily to promote the professional status of illustration art as well as foster both philanthropic and educational goals. From this small beginning it has grown to a very productive membership whose work is seen locally and nationally by millions each year in all printed media, television, films, the Internet and gallery exhibitions.
Today SILA has close to 200 members and is firmly established as the major professional art entity on the West coast providing significant contribution to the vitality of not only the community itself but the nation as well.

Submissions are taken in the autumn, why not have a go this year? I didn't enter the process with any sort of confidence, so it was a lovely boost to get selected!

Second piece below.
Share:
News archive
2019
2018
2017
2016
2015
2014
2013
2012
2011
2010
2009