Thu 14 Oct 2010 by Jo_Moore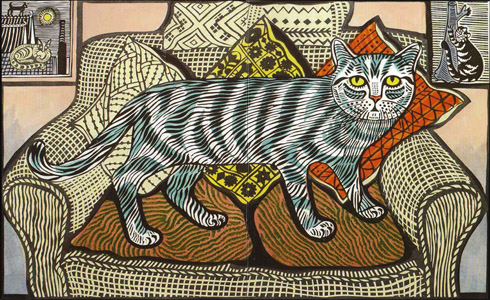 Fancy a nice trip out with a bit of illustration thrown in then Richard Bawden's exhibition could be just for you. Through the Door features watercolours, linocuts, etchings and even cast iron garden furniture! Richard (son of the perhaps more famous Edward Bawden) displays the influence of his father's style in his work, but is generally more naturalistic in style. Many of the themes are familiar; domestic arrangements, gardens, rural villages and jolly sea sides. He has a natural flair for animals and his tiger-striped cat makes many playful appearances. Make sure you see his lovely sketchbooks in the display cabinets at the side and the cut lino prints and tools.
The exhibition is on at The Fry Art Gallery, a charming, fusty old-school gallery manned by volunteers. As well as the Richard Bawden show there is a mixed exhibition featuring some of the usual Fry artists; including Edward Bawden, Eric Ravilious, Walter Hoyle, Bernard Cheese and Sheila Robinson (see this last month's Chloe Cheese meeting report). It's also worth rifling through the archive drawers to discover other treasures - an early piece of illustration by Chloe for Habitat, for example.
The Richard Bawden show is on until 31 October. And it's FREE.
The Fry Art Gallery, Castle Street, Saffron Walden, Essex, CB10 1BD. Open Tuesday, Friday, Saturday, Sunday and Bank Holiday afternoons between 2-5 pm to the last Sunday in October inclusive and from 11 am - 2 pm on Saturday mornings during this period. For more information go to http://www.fryartgallery.org
Share:
News archive
2019
2018
2017
2016
2015
2014
2013
2012
2011
2010
2009