Sat 13 Nov 2010 by Penny_Dann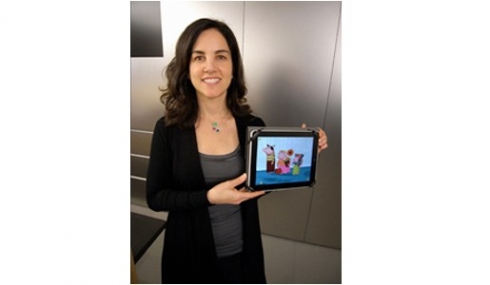 Speakers –
David O'Connor and Peter Greenwood from B.i.G. Deb Gaffin from Children's publishers Nosy Crow and Nye Wright from the Brighton Apple Store (and fully paid up B.i.G. member).
The aim of the event was not to change anyone's mind, but provide more information about how the iPad may impact on our working lives. If not actually creating images for this technology our work may well be viewed in this way in the future, so the iPad's arrival will affect illustrators in some way. So far, there have been seven million iPads sold worldwide.
Please see the end of the meeting report for David O'Connor's Top Ten Apps and a piece of B.i.G. history from B.i.G. archivist Fred Pipes.
David began the presentation by posing the question 'How will the iPad change the future of publishing? The answer is "I don't know"! But here are a few observations and ideas of where we are now.

As illustrators our reaction to the iPad falls into one of three camps:
Wow! basically can't wait to get my hands on one and use it. Maybe even work on it or for it.
Eh? I'm not sure what it is for, and not sure how it will affect me.
Aagh! Never let it darken my door.
All three reactions are completely understandable.

So, what is it?
Some view it as cut down laptop or a large iPhone.
In truth, currently it is a content viewer rather than a content creator, although it does have some limited creative ability at present.
Also we must bear in mind that this is just the first version, and as such, is transitional technology. We won't have to wait too long for added features.

What is it for?
The internet
Email
Reading books and the news
Viewing video
As a portfolio
Accessing Apps

Back to Basics
It is a simple direct hand-to-eye interface, with no intervention between you and what you are accessing.

What's the big deal about Apps?
Recently we have viewed the internet as an external resource that you visit, rather like a library. We aren't used to paying for information we gather from the internet, which is like an "endless forest'' of information. This is currently undergoing a shift since the arrival of the iPhone and downloadable Apps.
With Apps (for which you may or may not have to pay to download) and an iPad, we have more of a sense of ownership, and as already proved, we are more inclined to pay for that. This sense of ownership particularly lends itself to publishing.
As surprising as the number of Apps, is the absence of them in some areas. Certain magazines that cry out for delivery via Apps are still in print form only e.g. Empire, Film and the NME. These publications would all be greatly enhanced by having additional media content such as music and film clips. We are at the tipping point in the delivery of regular updateable information. Publishers, long set up to cope with writing, printing, distribution and pulping are struggling to reform, and newspapers especially are suffering financially.
The stark facts include - The Guardian - losing £100,000 per day, The Times and Sunday Times – daily losses in the region of £240,000. Times editor James Harding has described it as 'a period of galloping technological change'. In this new and changing market, new set-ups and web only companies currently have a strong advantage over established print houses.
Just to worry them more, there is now the ability for a writer/illustrator and a coder to be a publishing company, completely sidestepping the traditional publishing model.

Books – the last bastion?
For most of us "books delineate an intellectual journey through life" Although new developments may sound like the death-knell of books, traditional printed publishing will survive. Currently there is no substitute for a large format, glossy art book. Nye feels that publishing will continue to provide products of quality and that digital publishing will succeed in more mainstream areas.
There is no denying that a huge shift is taking place and as David says "if anyone can publish they probably will".

Speaker Deb Gaffin – Nosy Crow Publishing
On - Technology + children + great stories = lifelong readers.

Nosy Crow are a new independent book and App 'hybrid' children's publisher based in London. Their background is in traditional children's publishing. Kate Wilson who founded the company was MD of Macmillan Children's Books, Group MD of Scholastic UK Ltd, and CEO of Headline.
Deb is their digital product director. She began her career developing interactive media for museums before spending ten years at Scholastic, most recently as VP of Kids & Parents Online.
They aim to publish 27 books and six to eight Apps in the coming year. As the App store provides no opportunity for merchandising the company has embraced social media such as Twitter, Facebook and mumsnet.com to get their message out.

They are not seeking to publish existing books on the iPad, but are commissioning titles with interactivity in mind. Nosy Crow books won't automatically make a literal transfer to an App, but related apps such as activities and games may emerge from a book title. At other times (see below) an App may develop into a book.

Deb showcased two Apps currently in development.
'Animal Snapp'.
Initially, it is a game where the child matches up two halves of an illustrated animal. Once matched, a story is then told about that animal, with interactive opportunities. This idea came from two illustrators who worked along side a coder from the gaming industry and may well develop into a series of books based on the App.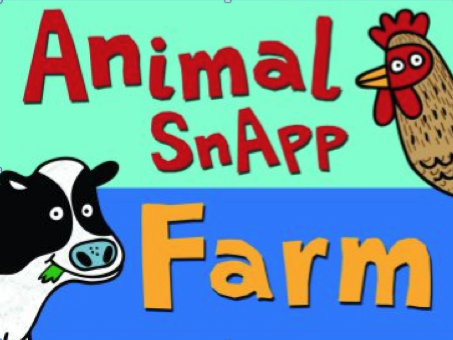 Secondly, "The Three Little Pigs".
The App artwork was specially commissioned from illustrator Ed Bryan. The scenes and characters are all hand painted, put through software to create a gentle 3-D effect. Voiced by children and injected with a great amount of humour the child is given options for altering the action and revealing 'hidden surprises'. Will the Big Bad Wolf's van run those little pigs over?… maybe!!!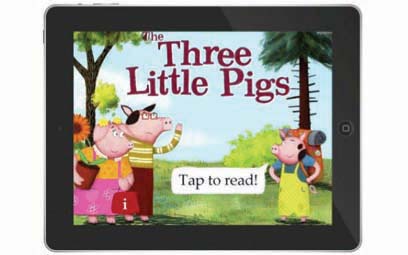 Each fortnight, the most recent pages are market researched with children and responses feed into further development of the book.
Deb showed a film clip of young boy who had made his own illustrated book after playing with this App. What does this tell us? The child was craving a 'real, hands on' book experience, or he was inspired to be creative?
In creating their Apps they strive to follow an outline
1 Story
2 Illustration
3 Meaningful extras, avoiding mere embellishments.
4 Interactivity – can you customise the experience, e.g. adding in your own photos, sounds and voices etc
5 Providing lots to discover
6 Make use of a child's ability and enthusiasm to play
7 Make it fun!
Very generously, Deb suggested that if anyone had any ideas they wanted to present to Nosy Crow they would be very happy to hear from them.
Remember to
Be creative
There is no set formula, people are taking all sorts of approaches
Think about how the reader is going to participate.
Be open to technology as a way to get kids excited about reading.

Peter Greenwood then showed a couple of drawings he had recently done on the iPad using the Brushes App, which he described as 'cut down Photoshop'. Peter extolled the virtues of the touch sensitive screen and ease of use; making it a digital equivalent of a sketchbook. Once the drawings are done they can be directly uploaded onto another computer for artworking or sent directly to the client from the iPad.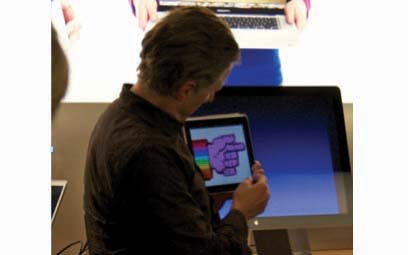 Next we moved on to a Q & A discussion with
Nye Wright, Apple Store Manager, Deb, David and the audience.
Q: How will Apps pay the illustrator, as there are so many people involved in the process?
Deb –In the same way as book publishing, on a royalty basis. In some cases Apps will help market books, or vice versa. We are trying to raise the bar, and sell at a decent price.
Fresh contracts are being drawn up with this technology in mind. The advantage of doing this at the start is that the 'old guard' publishers may well have sold certain rights off already as nothing like this was foreseen, so they are not necessarily free to offer good terms for digital rights on existing titles.

Q: As a parent I'm not comfortable with replacing books with an iPad. Since Nosy Crow titles will appeal to the preschool market, please consider how a parent and child interact when using a book.
Deb – Our Apps will have different modes
e.g. Read to me, record your own voice or make up a story.

Q: How will this technology be used in education?
Deb – It is particularly useful for upper grades, seeing things you are researching 'come to life'.
As technology moves so fast academic and scientific information is easily updateable.
Nye - I describe the machine as an input and output device, and who knows what ends it will be put to - Steve Jobs would never have predicted using the speaker to create an ocarina for example! This is a blank slate and media development doesn't sit still. It's what we choose to do with it that's important.
Martin Shovel – There is currently no model, and we are in a state of flux. If you maintain an interest in technology you are in a strong position. No doubt there would soon be App creation software so we can make our own, much like website creation has moved from the domain of coders and website specialists to the availability of template sites that given time and dedication, many people can now create a perfectly acceptable website.
As creative individuals we will have so many opportunities.
David - "igizmo" is one of the most successful magazines I've seen.
http://www.igizmo.co.uk
It is published by a web company, who have gone direct to App, cutting out the middle man and fully utilising the iPads current potential for information graphics. Existing titles from traditional publishers I subscribe to are rather literal 'flat' translations of the print version.
As mentioned before, publishers are viewing it askance, his regular copy of Nye's 'New Yorker' magazine currently costs more in digital form than in print form.

Q: How are publishers going to embrace this technology ?

Deb - The best Apps aren't necessarily coming from publishers, for example
Duck Duck Moose, a group of three parents making educational iPhone Apps
http://duckduckmoosedesign.com/
They have around 16 Apps at the top of the charts and are competing with giants such as Penguin. It is interesting times for creative entrepreneurs.

Nanette – The role of the illustrator is bound to change. The single piece of communication such as an editorial illustration will change with the ability to add animation for example.

Jo - With reference to self-publishing, there may be flood of low quality work. It has been the role of the publisher to act as a quality controller. Will the customer be able to distinguish the good product from the bad?
Perhaps it is like the revolution in the music making industry where someone can make a hit whilst wearing PJ's and never leaving their bedroom.
Nye - The Music industry is still reeling. From 1998-2001 Napster was the standard, nobody was paying for music. In 2003 Apple introduced iTunes and paying became acceptable, the price was right for guaranteed quality. The model moved from 'stealing' to 'paying' for your music.
Deb - Even though you hear about overnight App millionaires, not many people are currently making money, 50% Apps are never downloaded.

Q: Are you going for newer illustrators rather than established ones?
Deb – Both, as long as there is a strong idea. Established illustrators may be frustrated with waiting for older publishers to make up their minds.

Q: As a publisher, how do you make money from foreign rights. Once your App is 'out there', is that it?

Deb - We work with foreign publishers to license our product, so rights are sold much in the same way as they are now. So money should still come to illustrators.
Plus there are local App Stores, but as mentioned before there is no opportunity for marketing here so that's where the social networking and parent bloggers are utilised. A big issue is 'discoverability' so we work to make marketing relevant to each territory to maximise effect.
Nye - Perhaps cold comfort if you are trying to make a living, but be reassured this is a conversation that people have had since the dawn of time, think of all the developments in printing from Gutenberg onward.

Perhaps an interesting demonstration of where illustrators are regarding recent developments is that everyone present agreed they used technology for their work in some way and most people present at the meeting had seen or had a go on an iPad. However, when asked who actually owned one only David and Peter raised their hands.
Were we this evening, revisiting the moment in 1996 when Fred Pipes talked about how B.i.G. should have it's own website when only two people in the room had the internet! Amongst our audience the jury may still be out regarding the iPad, although as everyone who uses computers knows, it sometimes pays to 'watch and wait' and re-evaluate whether to purchase a bit further down the line.
After the presentations a lively discussion continued by all present long after the meeting had finished.

A huge thank you to Nye and his staff at The Apple Store Brighton for hosting the meeting and providing high-class refreshments!
David's top ten Apps-

These are specific iPad rather than iPhone Apps.

In no particular order.

1.BBC iPlayer - Telly and Radio wherever and whenever you want it.

2. Kindle - Download and read books from Amazon - annoy your bookgroup

3. Keynote - Make presentations etc

4. Chronicle - Make notes - copy text from sites etc

5. IMDB - Database of movies, directors and stars

6. BBC News - text and video from the BBC

7. Scrabble - old fashioned game - works a treat

8. Twitter - for following Martin Shovel's and Fred Pipes' words of wisdom

9. Epic Citadel - a demo of the realism to come for future games

10. Waitrose Recipe site - not strictly an app, but easy to follow recipes for the kitchen

Not a shoot em up game in site!!


B.i.G. Archivist Fred Pipes writes: I was an early adopter of the internet (I've been on the internet since 1994) - a role taken over in recent years by David O'Connor and Peter Greenwood. On Thursday 28 September 1995, when David was Chair of B.i.G. and I was Newsletter designer/editor, the B.i.G. meeting downstairs at the Caxton Arms starred Chris Riddell. It also included a demonstration by Neil Turner from Virtual Brighton of something called a website - an Internet Portfolio, and we had the opportunity be some of the first illustrators in the world to have a presence on the World Wide Web.
I don't remember much about the meeting, but in the next newsletter (yes they were paper ones back then!) the October/November 1995 issue (Cover Artist John Wallace), I wrote a one-page article entitled 'B.i.G. on the web' where I tried to explain how to get connected to the internet and the benefits of having a website! By the January 1996 issue, Neil had secured the illustrator.org domain and people were signing up at the introductory rate of £30 for four images. The March/April 1996 issue (cover artist Tim Gill) announced proudly that the B.i.G. website was finally up and running with 32 members represented: from Bob Abrahams to Vikki Yeates, with many familiar names of current members included, though it's not clear how many of them actually owned computers back then. The whole thing was demonstrated by Neil once more at the 28 March meeting at the Caxton Arms (which featured artist entrepreneur Shirley Trevena), but after that there's scant mention of it - all the buzz moved on to The B.i.G. Book 3, but that's another story!
The website has been revamped a couple of times since (notably by Mike Levy in 2002), and we've (sort of) parted ways from illustrator.org, so here we are with our brand new blog-based website, with complete user control, and many of us will wonder how we got on before email, Facebook and Twitter became an indispensable part of our lives.



Share:
News archive
2019
2018
2017
2016
2015
2014
2013
2012
2011
2010
2009