Sat 22 Sep 2018 by Michi_Mathias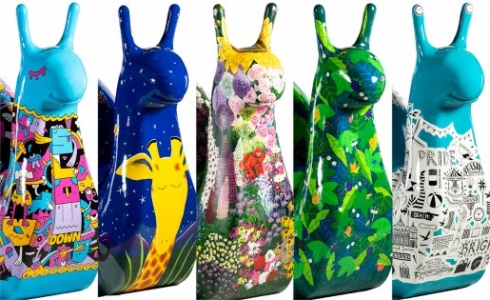 You may have noticed a friendly invasion of wonderful giant snails around the city. Have you wondered how they got there and who designed them?

BiG members Phil Weyman (Mister Phil), Guy Parker-Rees and Jo Moore will be joined by Danni Smith and Martha Mitchell to discuss how they became snail artists for The Martlets Snailspace trail. Find out about the whole process from design submission to final installation. Hear about the particular demands of painting a large 3D snail in 30 degree heat! An informal panel discussion with your chance to hear about the experience directly from the snail artists. The artists come from diverse backgrounds and experiences and have been brought together for the Snailspace project.
All welcome. Members free as always; £2 for non-members

Wednesday 3 October 2018 - 7.30pm
68 Middle Street
Share:
News archive
2019
2018
2017
2016
2015
2014
2013
2012
2011
2010
2009