Thu 12 May 2011 by Jo_Moore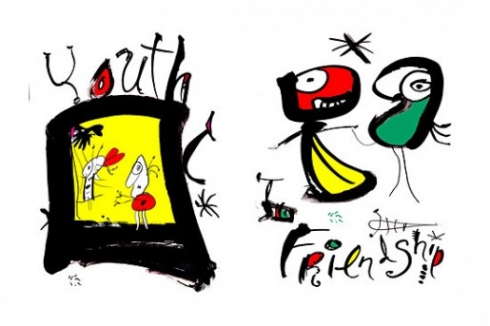 Mick Brownfield has just completed his latest painting for a new Coca Cola campaign. Commissioned by Publicis in Paris, it will be featured in press, poster and television. We love the retro (back to the good old days) style perfect for a hot sunny day....Take a look at the Nouvelle Bouteille TV Ad that the work is featured in... we really want one of those trays!
Check out the making-of video featuring work by Julene Harrison. She was asked to create a nature-inspired piece of art exclusively for the Telegraph in celebration of the launch of the new NIVEA Pure & Natural range. It took her 10 days to craft and cut - this is the behind-the-scenes video.
Ray Smith was recently commissioned by TBWA and Digitas to create illustrations for Nissan's five customer pledges - Response, Roadside, Test Drive, Price Match and Mobility.
New prints inspired by one of Brian Grimwood's favourite artists - Joan Miro.
The signed, limited edition giclee prints are printed on 250gsm Somerset 100% cotton paper, issued with certificate of authenticity.
"Alice laughed. 'There's no use trying,' she said 'one can't believe impossible things.'
'I daresay you haven't had much practice,' said the Queen. 'When I was your age, I always did it for half-an-hour a day. Why, sometimes I've believed as many as six impossible things before breakfast." From 'Through the Looking-Glass, and What Alice Found There' by Lewis Carroll.
This delightful conversation between Alice and the White Queen is the starting point for my new book 'Sixty Impossible things before Lunch'. A book full of impossible questions, impossible pictures and impossible ideas, such as 'Which came first, the chicken or the egg?' 'Where is the middle of nowhere?', 'What does the universe look like?' and 'How long is a piece of string?' Questions without answers or questions that are so hard as to be impossible. And some questions with so many answers it is impossible to give just one - the new book by Harriet Russell. The book was launched at the recent Bologna book fair with an exhibition at MAMbo, the modern art museum in Bologna. It was published by Edizioni Corraini and is available in English in Italian... available soon!
Our debut book License To Inspire is now available through the CIA Shop, Magma, Tate Modern, Royal Academy Shop & Waterstones. You can get your daily dose of inspiration on the CIA blog.
For more information go to www.centralillustration.com
To follow the CIA blog go to http://www.centralillustration.com/blog.asp
More soon
CIA
Share:
News archive
2019
2018
2017
2016
2015
2014
2013
2012
2011
2010
2009