Tue 28 Apr 2015 by Curtis_Tappenden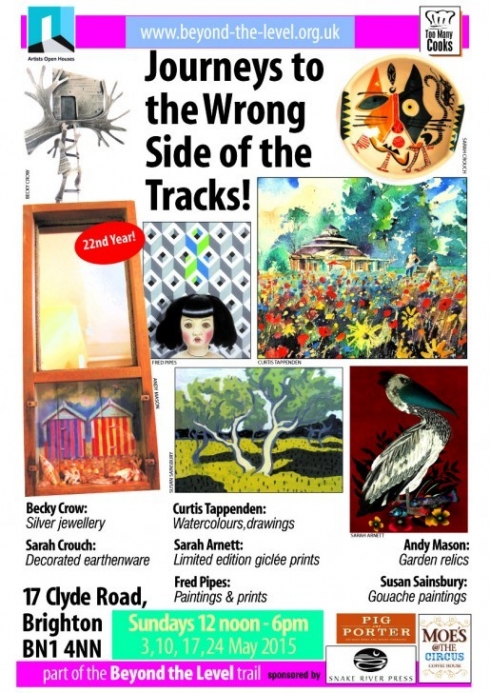 *****We have our party on Wed May 6th and you are all very welcome.

Snake River Press, Moe's at the Circus Coffee House, Pig & Porter Brewery and Too Many Cooks proudly present:

JOURNEYS TO THE WRONG SIDE OF THE TRACKS! 2015

A Brighton Festival Artists' Open House

Private View Party on Wednesday 6th May 2015, 7.30pm onwards.
Wine will be served and famous live entertainments in the living room at 9pm:
Performance poetry, storytelling, acoustic music sets and cabaret.

Also, dancing to the Rock Ola 443 and Wurlitzer Niagara juke boxes.
****No stilettos please.

Curtis Tappenden Watercolours
Becky Crow Silver jewellery
Sarah Arnett Limited edition giclé prints
Fred Pipes Paintings and prints
Andy Mason Garden relics
Sarah Crouch Hand-thrown ceramics
Susan Sainsbury Gouache paintings

RSVP Curtis Tappenden 01273 600246 or [email protected]
Share:
News archive
2019
2018
2017
2016
2015
2014
2013
2012
2011
2010
2009