Fri 14 Sep 2012 by Alan (Fred)_Pipes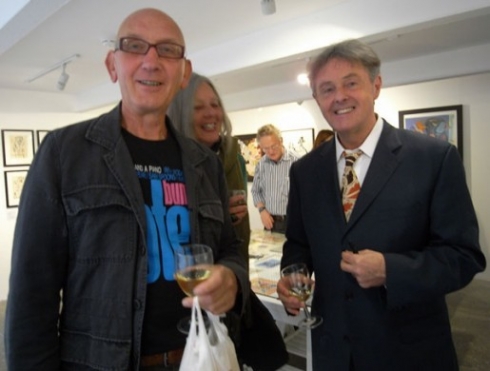 Brian Grimwood: The man who changed the look of British Illustration is on at the Work gallery until 3 November. As founding director of the Central Illustration Agency (CIA) Grimwood has been pivotal in the promotion of the work of a host of illustrators from around the world, including Jessie Ford and Baron Gilvan. The exhibition brings together a range of rarely seen material that gives a glimpse behind the scenes of Grimwood's extraordinarily successful career, such as sketchbooks, private commissions and a series of paintings on antiquarian linen book covers. BiG Book 7 features in one of the display cabinets.
The exhibition also celebrates the publication of a major new monograph of the same name by Black Dog Publishing and a limited-edition print by Grimwood has also been produced to coincide with the exhibition and is available exclusively through the gallery. Grimwood's band The Butchers Blues will be appearing at The Sussex in Hove on Friday 19 October - spread the word - then Friday 9 Novemeber at The Brunswick.
Share:
News archive
2019
2018
2017
2016
2015
2014
2013
2012
2011
2010
2009