Fri 10 Apr 2015 by Amy_Rogers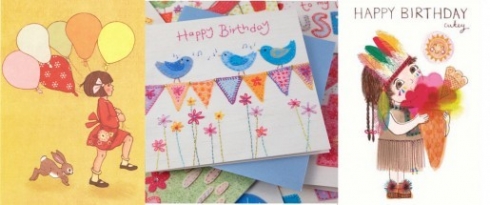 The BIG Greeting Cards event was held at the Marlborough Theatre.
Ilona Drew kicked things off by telling us all about her card company I Drew This. After studying Surface Pattern at Staffordshire University and going on to do a masters, Ilona worked in-house for Watermark Publishing. As an art-worker she colour-matched artist's designs and learnt a lot about the business. The company was incredibly organised, with meetings each morning, followed by design reviews where everything was analysed meticulously. Ilona really enjoyed the job and after four years she had worked her way up to management level.
After falling in love with Brighton, Ilona approached Carte Blanche. Here she won a more creative role - as senior designer for the Tatty Teddy range. Ilona developed her skills in computer software and commercial design here. A few years later she decided to take a risk and go freelance.
Ilona enjoys the creative freedom of setting her own briefs. She attends many card fairs to see what's around and meet other artists. She sells her products at shops including Paperchase, Brighton Pavilion, and at Brighton's Artists Open Houses during the May festival. Her colourful, decorative artwork appears on cards, wood, paper cups and clothing.
Ilona advises artists to make their work personal. She believes the greeting card industry is as competitive a market as the music industry. Finish is very important, as is putting oneself in potential customers' shoes. Ilona says that buyers like cards with captions as the less obvious ones are for people with more imagination.
Expect to get around £250-£275 per design if you sell the copyright. You could license the art for three years or with an advance followed by royalties. Most companies want ranges that complement their own brand. Self-publishing is hard work, involving administration, manufacturing and distributing. However, if you are successful, it's well worth it!
Ilona suggests joining The Ladder Club, where people in the Greeting Card industry get together to discuss their careers.
Jeremy Corner and his wife, Jo run Blue Eyed Sun. He's a film graduate and she's a fine art graduate. They once owned a tiny shop in Yorkshire. Their most popular products were collaged cards featuring glass enamel. Digital print-runs made things easier, so they set up their publishing company in 2000.
When they moved to Brighton Jo took trains all over Sussex to sell their cards. Millions of Blue Eyed Sun cards now sell in fifteen different countries. The handmade cards have evolved over time. They have featured copper, been printed onto acetate, stitched, painted and embroidered.
Jeremy says that Brits spend more each year on cards than on tea and coffee combined! He advises artists to try working with existing companies before going freelance. He believes the ingenuity and affordability of Moonpig and Poundstretcher cards are keeping the industry alive. E-cards only make 2-3 % of the market, as people love a physical object.
As licensing agents take 35-40% of your profit, Jeremy advises approaching publishers directly. If you decide to self-publish you need to create about fifty designs to take to retailers. They may not decide to stock them all, but if they have some choice there's more chance of you securing an order. Blue Eyed Sun would like to see 12-24 cards before considering you as a client.
Jeremy advises putting type near the top of the card, where it can easily be seen in card displays. He also advises keeping phrasing simple - 'wonderful' is a safe word. Sentiment and personality is important, "ask yourself, 'does it spark joy'?" he jokes. Open birthdays are the most popular cards.
James from 1973 spoke next. He and his wife, Emma worked at Beaumont before setting up their own company. They were working on a huge project with Eboy in 2003. Six months into the project, Beaumont decided it was too risqué. James and Emma convinced Eboy to work with them as 1973 instead. This was a fantastic deal for them as Eboy were working with huge clients including Coca Cola. Two of the wrapping paper designs Eboy created with 1973 are still available today!
James describes his company as 'a bit punk rock'. They break rules and push boundaries. Although he says they didn't know what they were doing to begin with, they sold their products in Liberties and Selfridges. He says that Eboy gave them kudos. He and Emma have built up great relationships with their artists and have a talent for talent spotting. They go for quirky, unique designs.
James warns that greetings cards can saturate a beautiful style, so it's important to develop. As cards are fashion based most styles are only popular for a couple of years.
One of 1973's early collections invoked the use of extremely low grade paper with foil accents. They loved the ying-yang effect but the printers worried they were being daft. The cards were popular and 'the making of 1973'.
Belle and Boo is one of their most poplar ranges, championed by Emma. It's now such a huge brand that it might be made into a film!
One of their few flops was a Pantone range. Although the colour matching brand is popular and the mugs have sold well, nobody wanted to send cards about colours. James and Emma were so excited about working with Pantone that they didn't stop to think, 'why would you send someone a jade square?'.
James detailed many of 1973's highs and lows. Although their risks haven't always paid off, those that have worked have been uniquely brilliant.
The company pays a flat 10% royalty fee, with an advancement of the royalty for more established artists. He says that artists need a reputation to convince publishers that they'll sell. There is a huge risk for publishers taking you on - sometimes a flat fee will leave you better off than royalties.
Wrapping paper proved to be excellent advertising for Eboy. When Paul Smith received a present wrapped in it he commissioned Eboy to design the lining for all the suits in his new collection.
James says that the best cards are simple, iconic and to the point.
Share:
News archive
2019
2018
2017
2016
2015
2014
2013
2012
2011
2010
2009