Fri 25 Sep 2009 by Alan (Fred)_Pipes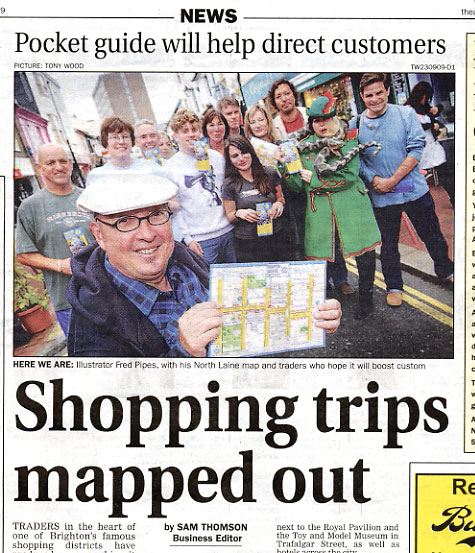 Fred Pipes appeared on page 53 of the the Brighton Argus yesterday (24 September 2009), launching the map of the North Laine that he drew.
Commissioned by the North Laine Traders Association (the Chair of which, Sharon Thomas, owns the Off Beat cafe, where Fred is a regular), the map shows the location of the member shops and cafes in the North Laine area, along with pictorial landmarks bounding the 'bohemian quarter'. It was drawn in pen and ink, scanned into Photoshop, converted to vectors using Streamline, coloured in using Freehand and output as a PDF. The brochure was designed by Deborah Aldridge and printed at Colourfast.
Share:
News archive
2019
2018
2017
2016
2015
2014
2013
2012
2011
2010
2009