Sun 13 Mar 2011 by Angela_McKay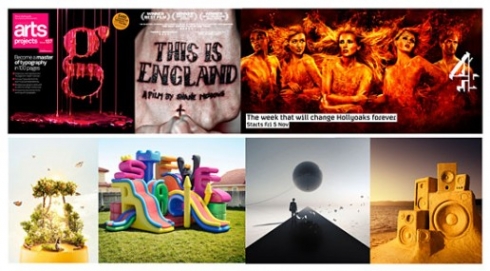 ........including a new exhibition, two new signings, award winning illustration campaigns, food illustrations for Raymond Blanc book, Martin Haake illustrates the world and Shotopop reveal their moving image work.
CIA have teamed up with Soapbox Events to bring to you a month-long exhibition of art, music & more at Great Wesern Studios. Inspired by George Mikes' book, How To Be An Alien, (first published in 1946) the exhibition celebrates Mikes' brilliantly captured experiences of when he (and others like him) first moved to London. From being an 'alien' to tea drinking, English politeness to queueing, a number of high-profile artists, including twelve of CIA's finest, Alien Nation celebrates London's diversity & nature.
Doors open 16th March.
CIA artists include: Good Wives & Warriors, Tina Mansuwan, Chris Kasch, Simon Spilsbury, Christopher Brown, Ulla Puggaard, Wendy Plovmand, Tatiana Arocha, Nigel Owen, Nishant Choksi, Clare Melinksy & Sarah J Coleman.
We're super proud to announce two new signings, Sean Freeman and Toby and Pete.

Sean, typography and illustration extraordinaire says, "I like to make things with stuff. I enjoy shooting all sorts of different materials, then using those shots to create type treatments & illustrations for a varied bunch of people from advertising to publishing. Currently living and working in sunny East London".

The award winning Toby and Pete specialise in photographic illustration, typography and 3D design, with a strong focus on innovative visual direction as well as great craft.
Our very own Mick Marston and Paul Slater, with agencies, AMV BBDO and CHI & Partners, have been awarded bags of gongs at this years Creative Circle Awards, including best in illustration, art direction and best press ads, for Anchor butter and The Museum of Childhood, for more click here.
Paul Wearing was commissioned by Bloomsbury to create the cover and chapter openers for a book that accompanies BBC's Kitchen Secrets with Raymond Blanc. We really love Paul's illustrations!
Merchant recently commissioned Berlin based Martin Haake to create a large illustration for use throughout the Brunswick website, representing their 'world'.
Check out Shotopop's new animation and moving image section, featuring weird and wonderful skills and thrills. Their showreel features their latest work, and watch this space, more to come soon!
Check out our new website.
Our debut book License To Inspire is now available through the CIA Shop, Magma, Tate Modern, Royal Academy Shop & Waterstones.
You can get your daily dose of inspiration on the CIA blog.
Follow us on Twitter.
Like us on Facebook.
Visit our YouTube channel.
More soon,

CIA
Share:
News archive
2019
2018
2017
2016
2015
2014
2013
2012
2011
2010
2009