Thu 22 Aug 2013 by Emma_McCann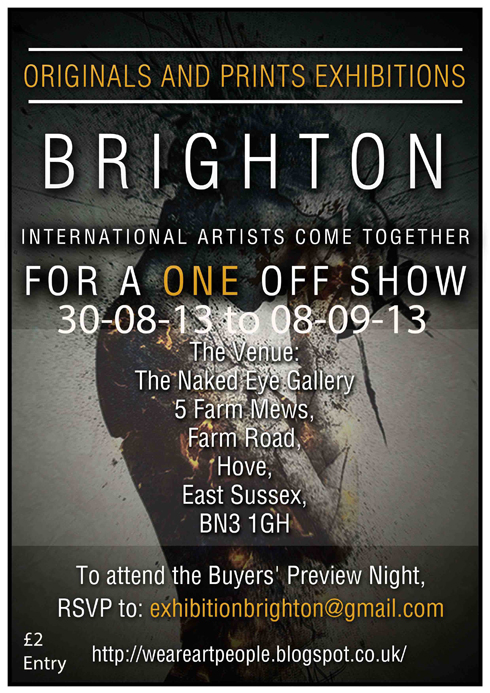 I would like to invite you to the Buyers' Preview Night of the WE ARE ART PEOPLE Exhibition #1, taking place at The Naked Eye Gallery in Brighton on the 30th August.
This exhibition truly is one of a kind, with a great mix of art forms from an undeniably impressive group of international artists.
The chances of seeing these artists together again is extremely slim, so if you miss it this time, there may not be a next time!!
THE BEST EXHIBITION EVER!!! ....... (PROBABLY!!)
Come and join us from 7pm for drinks, chat and a lot of ART.
More details can be found here: www.weareartpeople.blogspot.com, but to give you an idea, the artists include:
• Alan Coulson, who was 2nd place runner up for the BP Portrait Awards.
• Hollywood animator Cinzia Angelini showing exclusive footage from her brand new animation
• Wayne Chisnall, an artist with an A-List fan base.
• Illustrator - Liam Brazier
• Marco Bauriedel - Digital artist
• Simeon Aston, a comic artist gaining a fantastic reputation
So to RSVP, please reply to this email with the names of those that wish to attend, by Friday 23rd August.
I look forward to seeing you there, or if not, a good excuse....
Be sure to come and say hi as it would be great to meet you and hear your thoughts on the evening.
Any other questions, just let me know.
Many thanks,
Henry
We Are Art People
07738595526
Share:
News archive
2019
2018
2017
2016
2015
2014
2013
2012
2011
2010
2009