Fri 07 Oct 2011 by Penny_Dann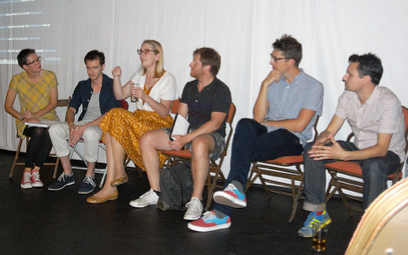 A man goes to the Doctor – "Doctor Doctor, I'm addicted to Twitter!"
"I'm sorry Mr. Smith, I don't follow you." (With thanks to Carl Rush of Crush Design, for that little gem.)
A packed room full of illustrators gathered at the Nightingale Theatre on September 29th to hear speakers Ross Breadmore and Sarah McIntyre talk about their use of social media and gain insight and advice from their experiences. Plus LIVE tweets from the audience too!
Ross gave an overview of the different methods available, but his overriding advice was - firstly decide why you want to start using it, the people you want to contact, your strategy and then, and only then consider the technology.
For those of you who couldn't make it, or want a recap, Ross's extremely informative presentation is available in its entirety here. If you are curious about social media but don't know where to begin it's an essential read. Thanks Ross!
http://www.nixonmcinnes.co.uk/2011/09/30/social-media-and-illustration-and-creativity-more-generally/
Sarah McIntyre LOVES the internet, and takes a playful approach to her use of social media. Projects have included an 'hourly comics day', drawing a short strip for each hour of a particular day, people drawing themselves as a teenager, (they amassed a huge collection of drawings), and a 'Comic Jam' – exchanging drawings with a friend via email to create a graphic novel style story. Neither of them knew how it would unfold - a game of artistic consequences for the electronic age. She is phenomenally prolific, both in her work and her blogging -just awe inspiring.
Check out her blog here to read about her visit to Brighton, I think she enjoyed herself!
http://jabberworks.livejournal.com/?skip=5
Her top tips:
Keep it simple
Figure out what you are good at
Use a platform that you like and get all the other platforms to point to the one you are focussing on
She appears at a lot of festivals, and the organisers jus love when she does a good post after the event (B.i.G. can vouch for that!)
Following their presentations Ross and Sarah the took part in an audience and panel Q & A chaired by Jo Moore with
Joe Wilkins illustrator
www.josephwilkins.co.uk
Tom Sanderson designer and illustrator
www.the-parish.com
and Carl Rush owner of Crush Design
A huge thank you to all of them. Thanks also to all the team who helped put the evening together, Jo Moore, Peter Greenwood, Steve Woodgate, Vicky Woodgate, David O'Connor, Emma McCann and Penny Dann.
Share:
Blog archive
2019
2018
2017
2016
2015
2014
2013
2012
2011
2010
2009