Wed 27 May 2015 by Garry_Robson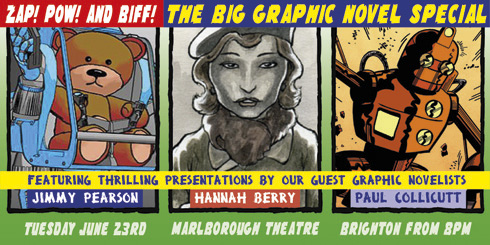 This latest instalment of BiG will have you on the edge of your seat with suspense, adventure and horror as you thrill to the excitement of what is known as…the graphic novel! We have gathered experts in this field from far and wide – we've journeyed to the Earth's core, battled with unmentionable beasts and solved incomprehensible plot lines to bring you this unprecedented event.
Featuring presentations by three guest graphic novelists – Jimmy Pearson, Hannah Berry and Paul Collicutt. So, if you've ever wanted to know about how to write for graphic novels, or illustrate them, or if you'd like to write and illustrate your own, then our experts will be able to answer some of your questions and tell you about their own individual journeys into the world of graphic novels.
Date: Tuesday 23rd June
Venue: Marlborough Theatre (upstairs)
Time: From 8pm
Cost: free
Our BiG graphic novel guest speakers:
Jimmy Pearson

Jimmy is an Australian comic book writer and illustrator now based in Worthing, West Sussex. His writing career started as a music journalist in Australia but Jimmy has since produced a series of published works in sci-fi and horror genres including 'Bayou Arcana' (a Southern Gothic saga of slavery and magic swamps), 'The Heart of War' (Vietnam War-set marines-vs-vampires epic) and Cogs and Claws (an epic story of animals battling to save the planet from invaders). New projects in the pipeline include H G Wells/Albert Einstein Steampunk adventure 'The Engines of Eternity' (with Roland Bird) and 'The Melting Man' - a David Cronenberg-esque re-imagining of the cult classic 'The Incredible Melting Man'. Jimmy makes regular panel appearances at comic conventions and literary festivals and runs a successful series of graphic novel writing workshops. Jimmy is also an environmental and political activist and these themes infuse his works.
Links to some of Jimmy's work:

Heart of War

Cogs and Claws

Comic Vine bio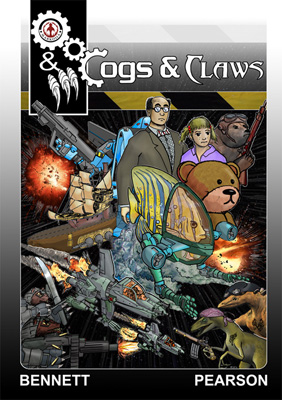 Hannah Berry
Hannah Berry is a Brighton-based graphic novelist, writer, illustrator and regular tutor for the Arvon Foundation and online writer in residence for Booktrust. Hannah's first graphic novel, 'Britten and Brülightly' (murder mystery and detective story) was published by Jonathan Cape in 2008. It has been published in the USA, Italy, Holland, France and Serbia, with the French edition chosen as part of the official selection for the 2010 Angoulême International Comics Festival. Her second graphic novel 'Adamtine' was published in 2012, also by Cape, and she is currently working on a third, 'Livestock', due in 2016.

Hannah has contributed comics to numerous publications, including 'La Villa Sur la false' (Casterman 2010), 'Hoax: Psychosis Blues' (Ziggy's Wish 2014), IDP: 2043 (Freight, 2014) and 'Above the dreamless dead' (First Second 2014), and articles to New Statesman, Dazed & Confused and Huffington Post UK. Her artwork has been exhibited in solo and collective exhibitions in the UK and around the world.
Links to some of Hannah's work

Britten and Brülightly

Adamtine

Hannah Berry's website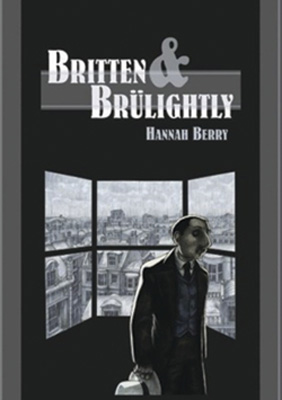 Paul Collicutt
Paul is an author and illustrator working out of The Annexe Studio in Brighton. As well as being an established illustrator, Paul is also the creator of the 'Robot City' series of graphic novels published by Templar Publishing which even has it's own funky interactive website. In this vibrant metal metropolis, highly developed robots are part of everyday life, living and working in harmony with humankind. Paul's dynamic retro art brings his colourful characters to life in Robot City adventure titles such as 'City In Peril!', 'Rust Attack!', 'The Indestructible Metal Men' and 'Murder on the Robot City Express'.
Links to some of Paul's work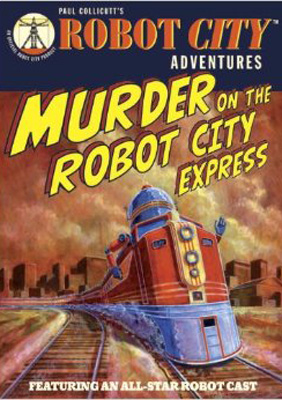 This meeting is free to BiG members and visitors are welcome.
The Marlborough Theatre, 4 Princes Street, Brighton, BN2 1RD


Share:

Blog archive
2019
2018
2017
2016
2015
2014
2013
2012
2011
2010
2009