Wed 08 Sep 2010 by Angela_McKay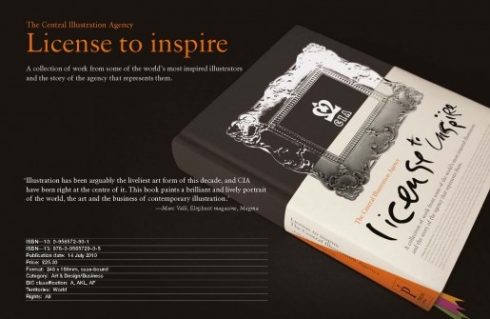 Created by the acclaimed Central Illustration Agency, who have been associated with the brightest talent in illustrative art since 1983, this book will be an essential addition to any coffee table or agency library.
"Illustration has been arguably the liveliest art form of this decade, and CIA have been right in the centre of it. This Book paints a brilliant and lively portrait of the world, th art and the busines s of contemporary illustration." Marc Valli, Elephant magazine & Magma.
Contents: License to inspire. Now. And how now happened. A commentary charting the origins of the Central Illustration Agency from its inception in the 1980s to present day a journey taking in some of the most memorable advertising campaigns and evocative book covers of the last few decades. The mechanics of a job: a relatively simple case study. A case study tracking the progress of a job from commission to completion.
The artists.
Showcasing work from some of the world's most talented illustrators, including: 12 foot 6, Ahoy There, Nik Ainley, Tatiana Arocha, Tom Bagshaw, Andrew Bannecker, Jonas Bergstrand, Ian Bilbey, Sir Peter Blake, Bernard Blatch, Greg Bridges, Christopher Brown, Mick Brownfield, Lesley Buckingham, Susan Burghart, Stanley Chow, Nishant Choksi, Sarah J Coleman, Haydn Cornner, Jimi Crayon, Dust, Tristan Eaton, Max Ellis, Fine & Dandy, Jeff Fisher, Jessie Ford, Andrew Foster, Nathan Fox, Jonathan Gibbs, Chris Gilvan Cartwright, Good Wives and Warriors, Brian Grimwood, Martin Haake, Pete Harrison, Lee Hasler, Sara Hayward, David Holmes, Darren Hopes, Peter Horridge, David Hughes, M. H. Jeeves, Kai & Sunny, Chris Kasch, Carol Lawson, Tina Mansuwan, Tim Marrs, Mick Marston, Chris McEwan, Clare Melinsky, Kate Miller, Dave Needham, Gary Neill, Jeff Nishinaka, Paul Oakley, Nigel Owen, Jackie Parsons, Jitesh Patel, Pirates, Wendy Plovmand, Ulla Puggaard, Maria Raymondsdotter, John Royle, Harriet Russell, Jeremy Sancha, Yuko Shimizu, Paul Slater, Ray Smith, John Spencer, Simon Spilsbury, Spiral Studio, Louisa St. Pierre, The 3D Agency, Alex Turvey, Mark Thomas, Benjamin Wachenje, Paul Wearing, Richard Wilkinson, Mike Wilks
Back-word. What inspires Brian Grimwood.
A few words from the agency's founder, whom Print Magazine described as having changed the look of British illustration.
In Conversation with: Sheri Glee, Art Director at the Folio Society, Sir John Hegarty, BBH, Paul Slater and Tom Conran at the Cow, Sir Peter Blake at his studio and Katie Grogan, art buyer.
Currently available on pre-order through Amazon: http://www.amazon.co.uk/License-Inspire-Collection-Illustrators-Represents/dp/0956572901
License To Inspire will also be stocked in various hand selected worldwide book, gift & interior stores, including Magma.
More images & spreads available upon immediate request. To receive a copy for review (or for your coffee table), please get in touch.
Central Illustration Agency a world leading artist platform. For more information and interviews, contact Alicja McCarthy on +44 (0) 207 73 7187, e-mail: [email protected], or visit http://www.centralillustration.com
Share:
Blog archive
2019
2018
2017
2016
2015
2014
2013
2012
2011
2010
2009