Mon 09 Oct 2017 by Garry_Robson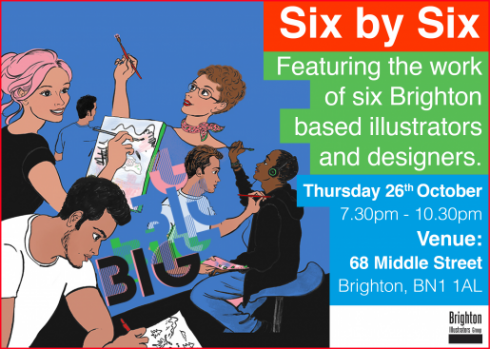 BiG October Event: Six by Six
Thursday 26th October
Time: 7.30PM - 10.30PM
Venue: Clearleft, 68 Middle Street, Brighton, BN1 1AL, United Kingdom
Venue website

Dear members,

We are excited to inform you about another BiG 'Six by Six' event. In keeping with previous 'Six by Six' events we will be inviting six local illustrators and artists along – each giving a short 10 - 15 minute presentation about their work and influences, followed by questions.

As is the case with all BiG events, this is also a great opportunity to meet and catch-up with other BiG members as well as to meet new faces.

There will also be free drinks for early arrivals!

Further information about our six artists will be confirmed in a later newsletter, on the BiG Blog and Facebook pages.

Let us know you are attending this event
We request that you respond to this bulletin using the short RSVP reply form to indicate your interest in attending. The venue has limited space so we want to make sure that BiG members get an opportunity to attend. Please note that you will receive a confirmation email from [email protected] after you've accepted the event invitation.

Please note that this is a free event for BiG members.

See you there!

Other up and coming BiG events free to all our members!
We have other Brighton Illustrators Group events in the pipeline for the rest of 2017, so here's a quick overview:
Best wishes, BiG

Newsletter illustration by Amy Rogers
Share:
Blog archive
2017
2016
2015
2014
2013
2012
2011
2010
2009