Thu 17 Nov 2016 by Jo_Moore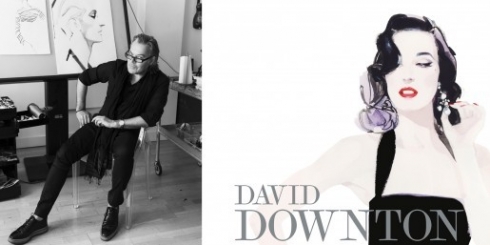 Wednesday 23 November 8PM
Fashion Artist David Downton
The Nightingale Room (upstairs of Grand Central opposite Brighton Station)
We are thrilled to announce that internationally renowned fashion illustrator David Downton will be talking about his most recent publication; David Downton Portraits of the World's Most Stylish Women.
In a glittering career David has worked for the most prestigious clients; Vogue, Vanity Fair, Chanel, Dior, Tiffany, V&A to name a few. For 20 years he has been recording the twice yearly Paris Couture shows, capturing the front and backstage drama of the world's leading fashion event and the personalities it attracts.
Downton's book features portraits made from sittings with some of the most celebrated women of our time; Cate Blanchett, Linda Evangelista, Catherine Deneuve, Paloma Picasso, Iman, Sarah Jessica Parker, Rossy de Palma as well as his regular collaborators and muse; Erin O'Connor, Dita von Teese and Carmen Dell'Orefice (the world's iconic and longest working model).
Since 2011 he has been the first ever artist in residence at Claridge's, London drawing their most distubguished visitors. His unique style he has made him the most sought after fashion artist of the age.
http://www.daviddownton.com/
There will be an opportunity to ask David about his career and for him to sign any books of his you may bring along. A truly fabulous meeting to end the year with - come along and be dazzled. All welcome.
Share:

Blog archive
2019
2018
2017
2016
2015
2014
2013
2012
2011
2010
2009