Mon 06 Feb 2012 by Jo_Moore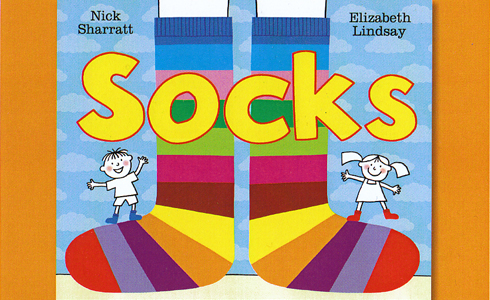 As light snow fluttered down we all crammed into the book shop for a very entertaining evening. Nick and the author Elizabeth Lindsay read aloud from the book to musical accompaniment and we all joined in to sing "Socky-Wocky-Doo-Dah".
The Book Nook made everyone welcome with sock colouring shapes for kids and drinks canapes for the grown ups. A fabulous stripy sock cake was cut by Nick and Elizabeth and buttery slices where liberally handed round. Parents and kids waited patiently for Nick to sign copies of the book. Colourful paper socks hung from the ceiling and guests were invited to wear their jolliest socks (Zoe Tucker's being most notable). Go grab yourself a copy of this very jolly book Socks by Nick Sharratt and Elizabeth Lindsay published by David Fickling Books and it's out now.
Share:

Blog archive
2019
2018
2017
2016
2015
2014
2013
2012
2011
2010
2009