Sun 27 Oct 2013 by Emma_McCann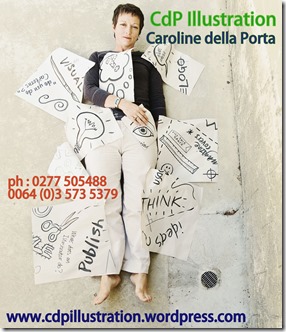 HI BIG - I have been given the go-ahead by WOW Gallery in Nelson, NZ, to pursue an illustration exhibition concept for 2014 (see details below)
http://www.wowcars.co.nz/reflectionsartgallery
At this stage, I am looking for any BIG members who may be interested in collaborating. Please contact me directly if you are.
Kind regards,
Caroline
BIG PIG Illustration Exhibition PROPOSAL
Concept
Brighton Illustrators Group (BIG) was established in 1990 in Brighton, on the South Coast of the UK. The Group has a current membership of 92 professional mid-career and newly- graduated freelance illustrators, and evolved from a desire to host and support their own local community of practitioners. Since then, they have grown to be nationally and internationally recognised.
http://brightonillustrators.co.uk/
Picton Illustrators Group (PIG) was established in August 2013 in Picton, Marlborough, at the top of the South Island of NZ. Its current membership is 1 professional illustrator – Caroline della Porta.
http://www.cdpillustration.wordpress.com
BIG PIG Illustration Exhibition sees the joining of these two remarkable institutions that span the globe. The connection is that Caroline della Porta (CdP) joined BIG in 1990, and remains in close contact with the members she worked alongside for 10 years. Just as BIG started small, so PIG aspires to grow .... this is the inception and launch of the collaborative process.
Exhibition Content
A selection of original artwork from a group of interested illustrators to be exhibited alongside working drawings and printed publications, in a variety of styles and media. Work available for sale.
Intention
To inspire and educate.

Caroline della Porta
[email protected]
0277 505488
Share:
Blog archive
2019
2018
2017
2016
2015
2014
2013
2012
2011
2010
2009