Thu 30 Jun 2011 by Angela_McKay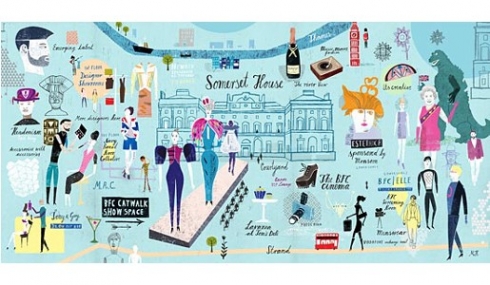 CIA in Motion
More and more of our artists are collaborating and exploring the world of motion so we thought it only sensible to accommodate this venture in our new Motion section. Give us a shout to find out more, we cover anything from animation to CGI to live action.
Paul Slater Retrospective
We've teamed up with The Union Club to show an intimate retrospective of Paul Slater's work. Spanning a thirty year career, his work appeals to those of us with a wicked sense of humour and a penchant for idiosyncrasy.
The Union is in a 270 year old listed Georgian town house and Paul's work could not fit the space more.
The exhibition runs from 7th July - 7th October and is by appointment only so please do get in touch if you would like to take a look.
Virgin Media
Mick Marston was recently commissioned by DDB to create a series of works to illustrate Virgin Media's new customer pack.
We especially like his cat on a book shelf, very sweet.
Hadley's Yum!
Check out these delightful ice-cream pots illustrated by MH Jeeves. Commissioned by Holy Cow! the ink drawings sit nicely on the side of Handmade by Hadley's individual pots.
12 Foot 6 at Latitude
The gang at 12 Foot 6 will be gracing the fields of Latitude Festival in July at the Film & Music Arena presented by Chris Shepherd.
Screening the much loved Dog Judo and Get Well Soon amongst others, here's a sneaky still from one of their soon to be released Dog Judo episodes featuring Rik Mayall as Roy's dad.
Kallo Food Academy
And finally, we love these brilliant illustrations by Chris Kasch for Kallo.
Commissioned by Work Club for Kallo's new 'simple ways to eat smarter' campaign.
They really aren't photographs! We promise.
Check out our new website.
Our debut book License To Inspire is now available through the CIA Shop, Magma, Tate Modern, Royal Academy Shop & Waterstones.
You can get your daily dose of inspiration on the CIA blog.
Follow us on Twitter.
Like us on Facebook.
Visit our YouTube channel.
More soon,

CIA
Share:
Blog archive
2019
2018
2017
2016
2015
2014
2013
2012
2011
2010
2009