Thu 08 Sep 2016 by Amy_Rogers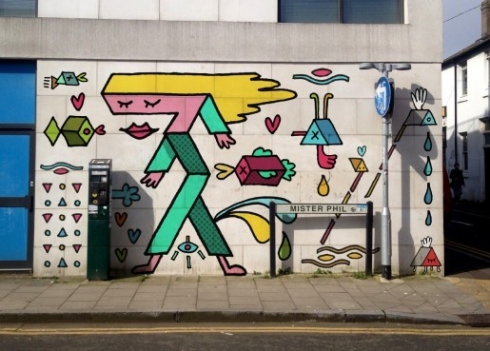 The latest BIG night out was at The Marlborough Theatre and Phil Weyman – aka Mister Phil – was our guest speaker.
Having planned to study Graphic Design at Southampton, Phil switched to Illustration on a whim. Unfortunately he found that his classmates and tutors had quite conservative views on illustration, so Phil switched to Brighton University's course. The ethos here was much more welcoming and experimental. After graduating, Phil became a website designer at a local firm. His job involved messing about on Photoshop and creating complex websites that could take up to eighteen months to complete. When the company went bust Phil became a freelance web designer.
All the while, Phil drew in his spare time. Attending a talk at Brighton's 'Reasons To…' conference inspired him to create a doodle-a-day. He still hoped to get paid for creating art. He posted colourful, experimental doodles with funny names onto Tumblr. Creating his own logo gave Phil a sense of identity early on in his illustration career. A lightbox helped him to make isometric artwork. He also began various animations. Phil enjoyed spending time away from computer screens and set up a separate desk for creating hand-drawn illustrations. Phil says he's wary of using a Cintiq because he might be tempted to check out the internet too often.
Soon Phil was working on particulr illustrations for longer than his daily timeslot. He invented commissions for himself, one of which was a large design that was displayed on large windows on the outside of Churchill Square. Byron Burgers loved the artwork he created for them. They tweeted about it but didn't buy anything. Phil created a free album cover and graffiti art, he also sold his merchandise through Society Six.
Mister Phil has created artwork for record-sleeve design company Secret Seven. Having brought several prints to their private view, Phil only sold one because he finds selling things in person difficult.
Winning a Smint packet design competition gave Phil fresh breath and 20,000 Facebook likes. It was also good to know that his artwork was visible throughout the land. It was at around this time that Phil began drawing onto MDF with Posca pens. When MTV didn't ask him to create a logo animation for them he created an 'MDF Unplanned' animation instead.
Mister Phil finds work by sending promotional packs out to art directors but commissions sometimes come from more surprising places. One job came through the quality of his blog on Tumblr. The makers of the website asked him to create designs for their 'Post It For' campaign (themes included Post it for Fun and Post it for Peace). Tumblr also invited Phil to London's Social Media Week. He joined some other artists at the National Gallery for five days. The artists created a different artwork every day, based on the subjects of the weeks CRM talks. Members of the public wandered around them as they worked (which could be distracting!).
Another job Phil won through Tumblr was for Vitamin Water. He created packaging designs for them based on a 'Hydrate and Hustle' theme. Having explored various interpretations of the brief, Phil settled on a musical take. The animation is especially amusing when combined with a gurgling sound effect – available on Mister Phil's website.
Mister Phil has created a few illustrations including positive messages such as 'Yes you can!' He advises artists to say yes to everything and to keep going through difficult times. He also advises 'sowing seeds' in terms of promotion and self-directed work, to further your career. After joining the Illustration Age website Phil was offered representation by an illustration agency in Nashville.
Phil got a commission from Sly Vinyl after contacting them on Twitter. He has also recently completed an exciting charitable project in Canada. His artwork is displayed in several major shopping malls, encouraging people to recycle, eat healthily and post selfies of themselves in front of his art.
Mister Phil creates most of his art using Sharpies. He scans his line-artwork into Illustrator where he converts it into vector artwork which can be blown up to a huge scale. His illustrations are freehand and unplanned as we saw when he created some live artwork at the Marlborough! The speed and skill with which he created his quirky characters was amazing.
Share:

Blog archive
2019
2018
2017
2016
2015
2014
2013
2012
2011
2010
2009