Thu 03 Oct 2013 by Emma_McCann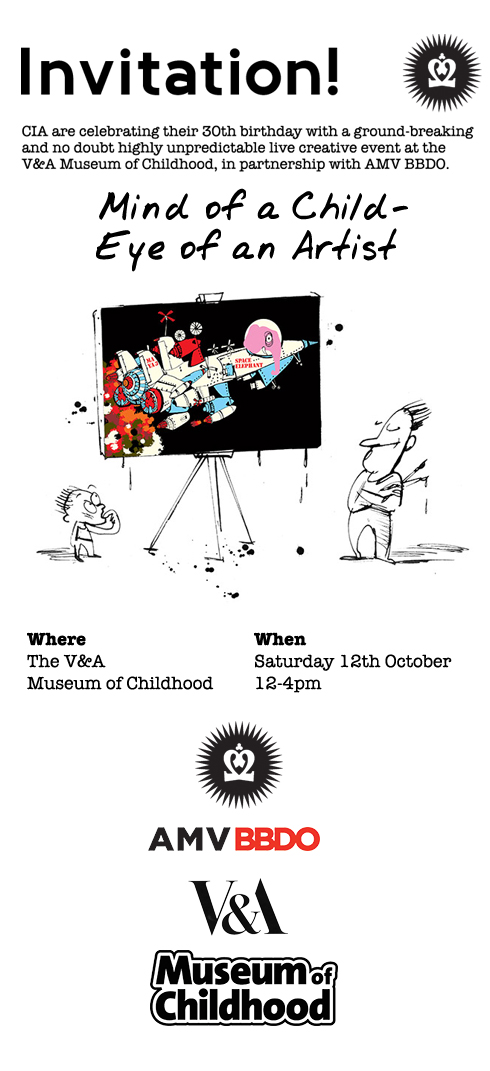 The Central Illustration Agency and AMV BBDO have teamed up to bring you an event at the V&A Museum of Childhood which will turn a group of children into the most free-thinking art directors ever. No one has ever taken the incredible and unique visions that can only be dreamt up by a child and had a brilliant artist bring them to life - under the guidance of that child!
In September a team of illustrators went to the Museum and gathered ideas and briefs from children and these have been distributed to our CIA artists to illustrate. On Saturday 12th October, more than 30 of these prebriefed artists, including Sir Peter Blake, will display their work at the Museum. At the same time a further 12 artists will be creating artworks live under the strict direction of their pint-sized commissioners!
It's going to get messy, and you can be there. Come on your own or if you've got children, bring them too!
Above illustration by Simon Spilsbury
using an event image by Ian Bilbey
Share:
Blog archive
2019
2018
2017
2016
2015
2014
2013
2012
2011
2010
2009