Tue 22 Jun 2010 by Penny_Dann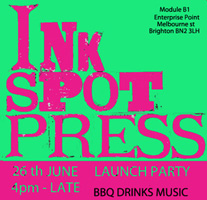 The Lovely folk at B.I.P. have sent us this-
Hi there Big people
Just to let you know that the transformation is almost complete
Unit B1 Enterprise Point is unrecognisable
space and light has invaded.
We have new presses (lots of letterpress)
and new courses in silkscreen running from the second week in June.

Please can you let your members know.
4pm - Late
BBQ, Drinks and Music
@ Module B1
Enterprise Point
Melbourne Street
Brighton BN2 3LH
01273 689496

[email protected]
Jane Sampson and Amy Douglas would like to invite you to join their new studio, Ink Spot Press.

Ink Spot Press is a newly-refurbished print studio and workshop, bringing a new lease of life to the old BIP premises. The studio is being renovated to provide a clean, clutter-free and accessible space for all of those who wish to explore the world of print. Our vision is that Ink Spot Press will be an inclusive space where we can all meet and support each other in our practice. Both established artists and complete beginners will be welcome to ink up, squeegee and press to your heart's content.

What we can offer you:
• Four 30"x40" silkscreen beds.
• Facilities for photographic stencil and plate making.
• A hydraulic Polymetaal relief printing press, the only one in the country (and one of only 8 in the world); platten size 80cmx100cm. No more heaving leavers!
• A Letterpress area, with assorted wood block letters, type and ornaments and three proofing presses.
• A qualified technician to support members during open-access hours.
We aim to help you to develop your skills through our expert-led courses with the support from our experienced teachers and technician. We will be running both weekend courses and 10-week classes. There will be a shop where art books, selected journals, consumables and paper will be available for purchase (during Technician hours). We will be providing a gallery space and opportunities to exhibit at art fairs and other exciting events. Ink Spot Press will also be a place for interaction and inspiration, with artist talks and other events planned on a regular basis.
We want to make it as easy as possible for you to come and print at Ink Spot Press, so we will be providing an online booking system for courses and open-access sessions. We are also developing the website (http://www.inkspotpress.co.uk) which we hope will have an online gallery for member's work.
All Ink Spot Press members will be able to benefit from the expertise and support of our Technician. Experienced printmakers can book studio inductions with one-to-one technician support available at £30 per hour. Inductions are available in screen, relief and letterpress and the studio fee includes basic materials (please contact us for more details).

Opening Hours
The studio will be open from 10am to 9pm, Tuesday to Saturday. There will be three 3hour sessions available to book:
• Morning: 10am to 1pm
• Afternoon: 2pm to 5pm
• Evening: 6pm to 9pm (except Fridays and Saturdays)
Courses & Membership
Beginners can explore the printmaking disciplines of screen printing, relief and letterpress on a weekend or longer course. Weekend courses cost £150, ten week courses cost £275 and Summer Schools cost £300 for the week.
If you would like to become a member of Ink Spot Press, there are several options for you to choose from.
• After successfully completing a course (or an induction if you are an experienced print maker), you can apply to become a member of Ink Spot Press and use the studio on a "pay as you print" basis (£25 per 3 hour session).
• If you would like regular open-access to the studio and a technician, you can apply for Associate membership . Pay for an annual membership fee of £50 and you get a discounted session fee of £15 per 3 hour session.
• If you are a dedicated printer who wants 24hour access to support your practice, you may want to apply for Key Holder membership. For £100 per month via yearly standing order, or a discounted fee of £1000 per year if you can pay up front, you will get key holder access to the studio and all its facilities- that's just £23 per week. You also gain access to the technician, plan chest drawers for storing your work, and storage space for your inks and screens. Full members can use the studio at any time, though not when courses are in progress, and will still need to book in advance to ensure they get the equipment they need.
Please note spaces for Key Holder membership are very limited; please contact us for more information.
Membership and session fees cover the cost of running the studio with a Technician. Ink Spot Press receives no external funding or subsidies, therefore all membership and session fees must be paid in advance.
Get involved…..
Ink Spot Press will be opening in June 2010. If you are interested in coming along to the launch party or being added to the mailing list, or want to find out more about our summer courses or membership please get in touch. Our email address is [email protected] or you can phone Ink Spot Press at (01273) 691496.
We look forward to seeing you soon,


Jane Sampson & Amy Douglas



Share:
Blog archive
2019
2018
2017
2016
2015
2014
2013
2012
2011
2010
2009