Wed 09 Jun 2010 by Siobhan_Harrison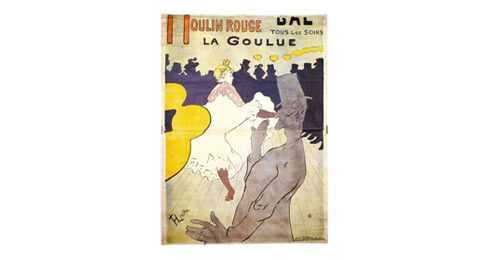 The Walker Art Gallery in Liverpool is the first destination for High kicks
and Low life; Toulouse-Lautrec Prints a British Museum Tour. The Walker
houses a fantastic permanent collection of paintings including the Pre-Raphaelite Rossetti's Dante's Dream and paintings from Hogarth to Hockney.

Toulouse-Lautrec's drawings and sophisticated prints have a vivacity of line and colour which reflect the energy of the scenes he depicts. What is striking on looking at these familiar iconic images face to face is the skill he had as a print maker. Looking at the infamous ' La Goulue' Moulin Rouge poster the scale is surprisingly large, and on closer inspection you can see where the image has been pieced together, he was obviously limited by the scale of the lithographic stone he was using, and had to work on this print in two pieces, it's the largest piece in the exhibition. It's fascinating to look at his sketches and to then see how he retains the vivacity of line when the work is translated to print. The influence of Japanese prints is strong throughout all this work.

The exhibition includes the expected images of the dancer Jane Avril and other pieces such as a programme for Raphael and Salome 1896.This print was used for the two plays Romain Coolus's Raphael and Oscar Wilde's Salome.
Another fascinating and less familiar piece is a cover for a book of songs Les Vieilles Histoires, which if you saw it in Waterstones it wouldn't look out of place.

The exhibition is an evocative portrait of the colourful theatrical world of 19th century Paris.
High Kicks and Low Life at the Walker Art Gallery Liverpool, runs from the 14th May to the 8th August 2010 and has free entry. Walker Art Gallery, William Brown St, Liverpool, L3 8EL.
Share:
Blog archive
2019
2018
2017
2016
2015
2014
2013
2012
2011
2010
2009