Sat 27 May 2017 by Mia_Underwood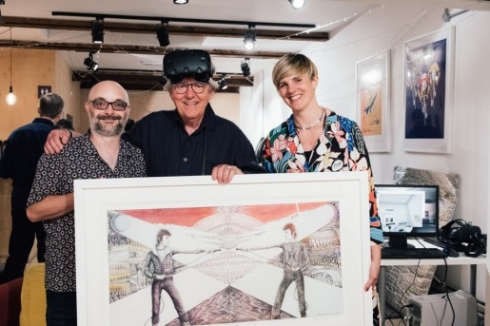 For those of you BiG members who did not make George Underwood's talk and VR art gallery experience last Thursday 25th May 2017. It was a great success in every possible way!!
George was a legend, he spoke about his life and work in an hour, packed full of amazing stories, giving us all an insight into to his unusual journey through music, commercial illustration and fine art career.
We will be uploading a video of the event very soon, thanks to Tas Underwood who filmed the whole event. We will keep you posted in the next BiG Newsletter.
For now, here is a great blog post made by GalleryGhost of the Virtual Reality George Underwood's art gallery experience.
http://galleryghost.com/2017/05/the-best-vr-experience-ive-had-so-far-gallery-ghost-impresses-at-launch/
A very BiG thank you to Clearleft for enabling us to have such a fantastic venue 68 Middle Street. Which has all the latest mod-cons, space, bar and luxury BiG could ever possibly hope for. This will now be BiG's venue for all future events....how exciting!!!!
And, thank you to Kineo who kindly provided the drinks for the night. Which added the cherry to the top of the BiG arty cake.
We hope to see you at BiG's next event in June...details coming soon.
Event curated by: Mia Underwood
BiG thank you to our new sponsors: 68 Middle Street, Clearleft and Kineo



Share:
Blog archive
2019
2018
2017
2016
2015
2014
2013
2012
2011
2010
2009